EVENTS
Bachelet Won't Seek Second Term After Failed China Visit
Three years of preparation culminated in a visit to China by the United Nations High Commissioner for Human Rights Michelle Bachelet in May 2022. She arrived in Guangzhou on May 23 and flew to Xinjiang on May 26. She spent two days in the Xinjiang Uyghur Autonomous Region (XUAR), visiting Kashgar and Urumqi, and returned to Guangzhou on May 28 where she gave a press conference.
Bachelet's visit to China has been roundly criticized by several countries including the United States and Germany, homes to many members of the Uyghur diaspora. It has been condemned by human rights groups (including virtually all Uyghur groups), academics, relatives of detainees, and officials like Nikki Haley, former American Ambassador to the United Nations. Haley and others have called for her resignation. As of June 9, 2022, more than 230 human rights groups have called for Bachelet's resignation.
Here are a few of the reasons for the harsh criticism and calls for Bachelet's resignation.
When taking time spent traveling into account, Bachelet spent less than 48 hours on the ground in the two XUAR cities.
Bachelet agreed with the Chinese demand that the visit was not an investigation, simply an opportunity to exchange views, essentially a "get to know you" opportunity. She fawned over her video session with Chinese president Xi Jinping, calling it a "valuable opportunity." Xi boasted of China's achievements in human rights and told Bachelet that "China has no need for preachers." The day before this virtual meeting, Chinese Foreign Minister Wang Yi presented Bachelet with a book of Xi Jinping's quotations on human rights.
In her press conference, Bachelet took 10 questions, evenly divided between international and Chinese state journalists. She spent as much time talking about Texas gun violence as she did about Xinjiang. She may have known in advance what the Chinese questions would be. Bachelet's unusual criticism of the United States while on a trip to China – the United States is one of the UN Security Council's Permanent Five countries and provides the largest share of the Office of the United Nations High Commissioner for Human Right's (OHCHR) budget – may reflect her longstanding animus towards the United States, thought to arise from her and her family's treatment at the hands of the Pinochet regime which was supported by Washington.
Before saying anything about China's violations of civil and political rights, Bachelet heaped praise on China's achievements alleviating poverty and advancing gender rights, thereby buying into China's position that the right to development trumps all other rights, violating the principle of indivisibility of rights: all rights are equally important.
In the press conference, Bachelet stated that the voices of family members of detainees "were heard." To date, it is not known whether lists were handed over or names raised. Family members are skeptical. Children of Uyghur prisoners contacted by Dui Hua claim they have heard nothing from the OHCHR. On June 16, as this issue of Digest went to press, Bachelet acknowledged that she

failed to

meet "with any Uyghurs currently detained or

their

families" on her visit to Xinjiang.

Bachelet apparently visited a prison with very few, if any, political prisoners in Kashgar and a former "VETC," or "vocational education and training center," that was either empty or repurposed, supporting China's claim that all such facilities have been closed. Male prisoners convicted by Kashgar courts for state security and terrorism offences are typically placed in Xinjiang Number One Prison in Urumqi.
Bachelet's stress on the need to "review" anti-terrorism measures implicitly acknowledges the Chinese claim that many Xinjiang Muslim ethnic minority prisoners are actually terrorists. She claimed to have raised "residential surveillance in a designated location" as a form of arbitrary detention without mentioning that UN experts consider it a form of enforced and involuntary disappearance as well.
After stating that the OHCHR wanted "unfettered, meaningful, credible access," Bachelet's spokesman confirmed that access was restricted due to Covid and that Chinese officials accompanied her at every meeting except those with foreign diplomats and NGOs
In 2021, the OHCHR completed a report on China's violations in Xinjiang. Bachelet said she'd release it in a matter of weeks. She failed to do so, apparently at the request of her "old friend" Xi Jinping. Now it is said that the report will be updated with information obtained on the visit to China. The report will be shared with the Chinese government prior to release. The whole process will likely take weeks. At the June 13, 2022, opening session of the Human Rights Council, Bachelet revealed the report would be issued before her term comes to a close in September.
Bachelet has stated that an agreement had been reached to set up a working group to further pursue issues discussed during her visit, but no details have been provided on what the group will do, how it will be composed, or when and how often it will meet. It is unlikely to supplant Special Procedures, several of whom deal with issues related to prisoners. Bachelet also said there would be enhanced technical cooperation. Again, no details were provided.
Bachelet's team is said to be pleased with the visit. They are not responding to criticism that she has diminished the credibility of her office, nor have they responded to calls for Bachelet to resign.
At the opening session of the 50th session of the Human Rights Council, Bachelet announced that she would not seek a second term when her present term expires in September 2022. Given her performance, her reappointment would have been unlikely. Her cherished dream of becoming Secretary General of the United Nations will never be realized as she returns to Chile to spend time with her family.
---
Names Embedded in Truth, Spoken to Power: Kamm Honored with Harvard GSAS Medal
This past May, Dui Hua Executive Director John Kamm traveled to Cambridge, Massachusetts, where he received the Centennial Medal, the highest honor bestowed by Harvard University's Graduate School of Arts and Sciences (GSAS). Presenting him with the medal, the GSAS cited Kamm's "tireless, personal commitment to opening mutually respectful dialogues with Chinese officials about at-risk prisoners, an innovative approach that has spared and improved the lives of so many."
Since its founding, Harvard GSAS has conferred degrees on more than 34,000 individuals. Since it was first awarded in 1989 to commemorate the GSAS 100th anniversary, the medal has been awarded to around 140 GSAS degree-holders. Notable previous recipients include author Margaret Atwood, political scientist Francis Fukuyama, essayist Susan Sontag, and sociologist Ezra Vogel. Each year, the medal recognizes alumni who have made contributions to society, "the roots of which are based in their graduate education." The other 2022 Centennial Medalists are:
Neil Harris, PhD '65, History, for his "pioneering work in shaping the field of cultural history"
Vicki Sato, AB '69, AM '72, PhD '72, Cellular and Developmental Biology, for her "visionary leadership and life-changing breakthroughs in the biopharmaceutical industry"
Robert Zimmer, AM '71, PhD '75, Mathematics, for his "superlative leadership of [University of Chicago]," and his "principled advocacy for the core mission and values of higher education on the national and global stage"
Kamm's remarks upon receiving the Centennial Medal
In 1975, I graduated with a master's degree in Regional Studies from Harvard GSAS, where I studied under and continue to learn from the leading Sinologists of our time. I returned to Hong Kong, where I did business in China then in the final days of the Cultural Revolution, closed, then opened, now closing again.
In 1990, I intervened on behalf of a prisoner at a banquet hosted by a senior Chinese official, and, in 1999, upon my return to the United States, I founded Dui Hua. Since then, I have returned to Harvard on many occasions, meeting with Sinologists, speaking to students, and conducting research in the university's unsurpassed collections.
In Harvard's libraries I have found the names of hundreds of prisoners, names that I subsequently raised with the Chinese government. I found more of them on this trip. I thank Harvard GSAS, not only for myself but on behalf of those names, unknown but to God until they were found at Harvard — names embedded in truth, spoken to power.
Remarks from Harvard faculty honoring Kamm
"John Kamm as an individual has had a greater impact on seeking justice for political prisoners and those of conscience than anyone else that I know."
– Anthony Saich, director of the Ash Center for Democratic Governance and Innovation and Daewoo Professor of International Affairs at Harvard Kennedy School.
"If you understand people's cultural values, the traditions they hold dear to their hearts, you can speak to them, and that's the foundation of John Kamm's work."
– Xiaofei Tian, professor of Chinese Literature and former chair of the Committee on Regional Studies–East Asia
"John's modus operandi is singular…He has devoted countless, thousands of hours not only to the research and negotiation themselves but also to patiently comforting the families of those imprisoned."
-William P. Alford, Jerome A. and Joan L. Cohen Professor and director of East Asian Legal Studies at Harvard Law School
"John Kamm's persistence and high moral code have placed him on the right side of history. As both a businessman and human rights activist, he understands how to engage, and, where necessary, confront a changing China."
– William Kirby, T.M. Chang Professor of China Studies in the Faculty of Arts and Sciences, Spangler Family Professor of Business Administration at Harvard Business School, and chairman of the Harvard China Fund.
Read Dui Hua's press statement
---
PUBLICATIONS ROUND UP
Featured: Human Rights Journal: Crimes of Extremism Part 1: Observations on Use and Sentencing (May 12, 2022) and Part II: Harsh Sentences, Low Transparency in Xinjiang (May 18, 2022)
Extremism, officially defined in Chinese law as the "ideological basis of terrorism", or more broadly, "inciting hatred, discrimination or agitating violence through distorting religious doctrines or other means, has long been integral to China's security policy against the "three evil forces" (i.e terrorism, splittism, and religious extremism). However, it was not a precisely defined legal term until the following provisions were added in 2015 under Article 120 of the Criminal Law, "organizing, leading, and actively participating in a terrorist organization:"
Article 120(3): Promoting terrorism, or extremism or instigating terrorist activities;
Article 120(4): Using extremism to undermine implementation of the law;
Article 120(5): Coercing other people into wearing costumes or symbols to promote terrorism or extremism;
Article 120(6): Illegally possessing articles to promote terrorism or extremism.
Reporting by overseas news media sources suggests that the four new crimes are most typically invoked against Uyghurs. The crimes have been criticized by United Nations' special rapporteurs and working groups for being overly vague with no basis in binding international legal standards. Human rights groups have also said that many of the extremism arrests are made without evidentiary basis and authorities frequently fail to respect the due process rights of detainees.

Read more of Part I here.
Read Part II here.
See Also: Human Rights Journal, March 31, 2022: Underground, Not Extinct: South China Church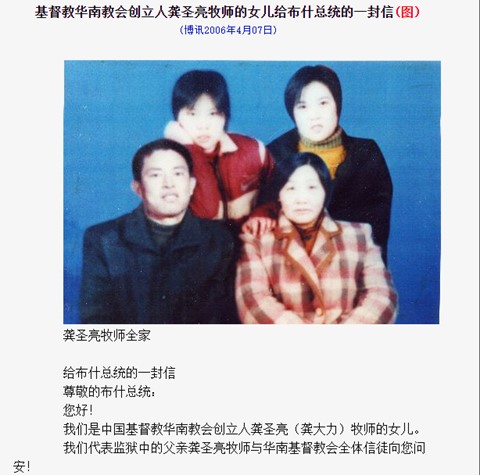 The lack of recent information about South China Church has led to questions about its continued existence. Dui Hua's research, including a criminal judgment issued in 2016 involving its members, suggests, however, that the group continues to operate even as its founder remains incarcerated.
Read more here.
See Also: Prisoner Updates 2022 #3: Disabled Nanjing activist was sentenced in 2019; Hangzhou arrests IT professional for endangering state security; Xing Wangli sentenced; Guangxi lawyer released; Hong Kong's national security trial
---
JOHN KAMM REMEMBERS
John Kamm Remembers is a feature that explores Kamm's human rights advocacy prior to and since Dui Hua's establishment in 1999.
Remembering Orrin Hatch
Orrin G. Hatch, the longest serving Republican senator and longest serving Utah senator, passed away on April 23, 2022, in Salt Lake City, Utah. He was 88 years old. He served six terms in the United States Senate and chaired the Senate Judiciary Committee for a total of eight years.
Senator Hatch was born in Pennsylvania to Jesse Hatch and Helen Kamm, both of whom grew up in Utah. His grandfather was John Kamm, a fabled man of the Old West. Orrin Hatch was a bishop of the Church of Latter Day Saints and a staunch supporter of religious freedom.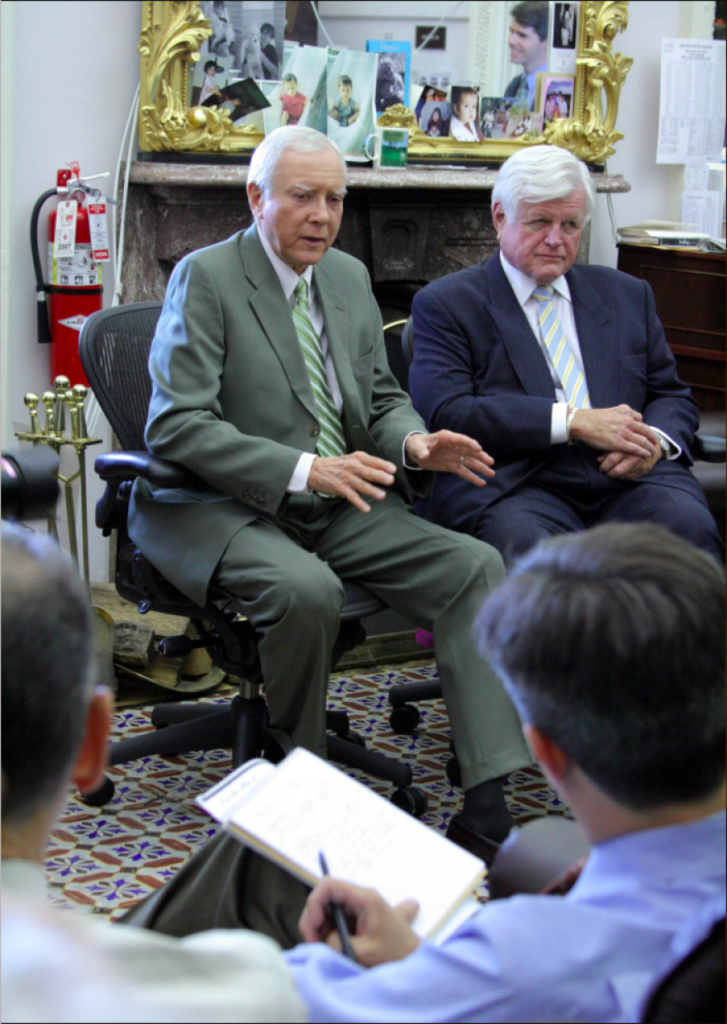 Senator Orrin Hatch was an original. Although he was a rock-solid conservative, he reached across the aisle to work on legislation with Democratic leaders. One of his best friends was liberal icon Senator Edward Kennedy. A talented musician and songwriter, Senator Hatch appeared in cameo roles in several movies. He generally supported good ties with China and favored renewing China's trade status in the United States and admitting the country into the World Trade Organization.
Senator Hatch was a friend, strong supporter of my work, and a relative who wrote 11 letters to senior Chinese and American officials, including President Bill Clinton, urging cooperation with my work on Chinese political and religious prisoners. He welcomed me to his office on every trip I made to Washington, including one I made with my oldest son Jack in the summer of 2000. In December 2018, weeks before he stepped down as a senator, Senator Hatch nominated me for the Nobel Peace Prize.
Trip to China
I met Orrin Hatch and his wife Elaine in Beijing in October 1997, shortly before Chinese President Jiang Zemin made his final state visit to the United States. The trip had been arranged by an American foundation specializing in making grants to support work on international relations. Upon seeing me for the first time, Senator Hatch remarked to his wife that I resembled his grandfather. I gave Senator Hatch a prisoner list with 37 names from 20 provinces, and he in turn handed the list to Minister Xiao Yang, then Minister of Justice and President Jiang Zemin. For more details on Senator Hatch's visit to China, see "Cousin Orrin."
Not long after Senator Hatch gave the list to Minister Xiao Yang, several of the prisoners whose names were on the list were released from prison, some with months and years of time left to serve. Clemency began within weeks of Minister Xiao's accepting the letter. Eventually as many as one-third of the prisoners on the Hatch List were granted commutations, sentence reductions leading to release, and medical parole. Those who benefited included long-serving counterrevolutionaries, June 4 prisoners, and the Tibetan ethnomusicologist Ngawang Choephel.
Letters to Chinese and American Leaders
In early 1998, Senator Hatch began writing letters to senior Chinese and American officials including Minister Xiao Yang, his successor Gao Changli, and President Bill Clinton.
On February 25, 1998, the senator wrote to Minister of Justice Xiao Yang to thank him for recently providing me with information on prisoners. He stressed that the prisoner information project between me and the ministry was heralded as one of the accomplishments of the previous autumn's Jiang-Clinton summit.
On May 22, 1998, Senator Hatch wrote to Xiao Yang's successor as Minister of Justice, Gao Changli, reminding the minister that he had had several positive exchanges with his predecessor regarding John Kamm's prisoner information project. "I hope that we can continue to discuss this valuable project which has garnered the attention of many leaders and citizens in this country."
In a letter sent to President Bill Clinton on September 28, 1998, Senator Hatch advised the president that he had taken a strong personal interest in my work and asked him to raise the recent lack of progress on the project with visiting Chinese Foreign Minister Tang Jiaxuan.
On October 28, 1998, President Clinton responded. "We are in complete agreement about the importance of promoting Mr. Kamm's project." He went on: "In her meeting with Foreign Minister Tang, Secretary Albright urged the Chinese to resume cooperation with Mr. Kamm. In my meeting with Tang, I urged release of prisoners detained under laws that have been repealed, a reference to the Law on Counterrevolution that is no longer on the books. Mr. Kamm has been very active raising Chinese consciousness on this issue."
Senator Hatch's interest in my work had a direct impact on my work to free Chinese prisoners. For this, and for many other kindnesses, I will always be grateful to my "Cousin Orrin."
Subscribe here to receive Dui Hua publications by email.