The Persecution of Unorthodox Religious Groups in China:
A Report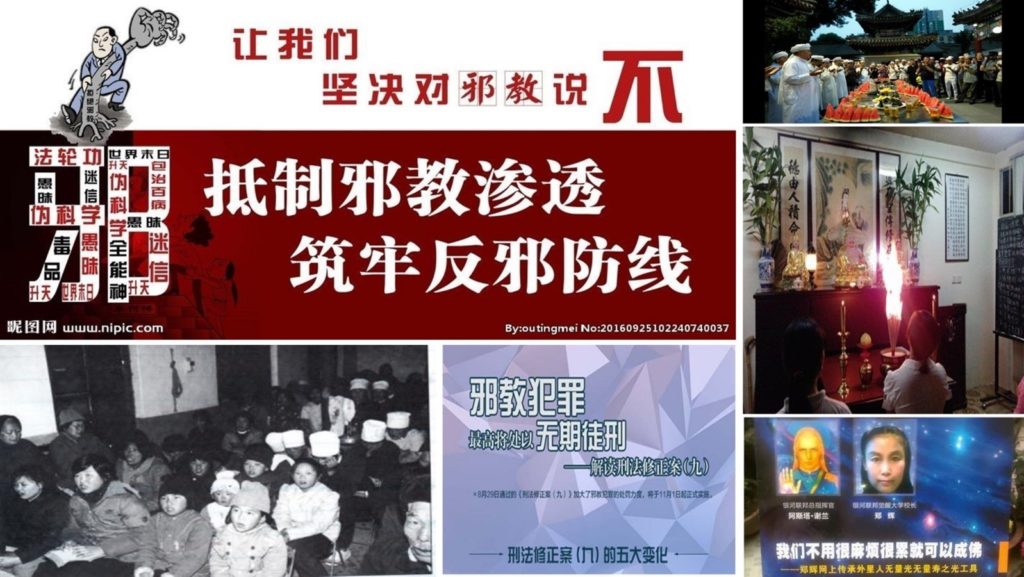 In 2020, Dui Hua received a grant to produce a report on the persecution of unorthodox religions in China. The objective of the project was to provide analysis and actionable information that would enable more effective interventions on behalf of practitioners of unorthodox religious groups who face coercive measures under Article 300. 
Noting the extensive historical context informing the Chinese government's approach to religious groups, especially those not sanctioned by the state, Dui Hua found that the 1997 revision to the criminal law placed "cult" trials into the purview of district courts, resulting in less transparency and attention for such cases. By 1999, trials of Article 300 cases—for those accused of organizing and using superstitious sects, secret societies, and religious organizations to undermine the law—soared, largely due to the ban on Falun Gong.  
Using legal documents, media reports, case studies, official publications, Chinese government responses to requests for information on persecuted prisoners, court statistics, and the Political Prisoner Database (PPDB), "The Persecution of Unorthodox Religious Groups in China" provides a comprehensive view of how non-state sanctioned religious practitioners come into conflict with the law, how officials at different levels of government criminalize unorthodox worship, and how past trends can inform future advocacy for those undergoing coercive measures for the non-violent expression of their beliefs.  
The report is divided into nine sections:
Introduction

;

O

verview of unorthodox religious groups

;

L

aws and regulations targeting unorthodox religious groups;

A

nalysis of court statistics from 1979-2016;

Discussion of

deteriorating

transparency in

the

disclosure of information on

Article 300 cases;

PPDB statistics and and a

nalysis of religious persecution;

Dui Hua's advocacy for such prisoners

through the use of

prisoner lists and responses;

C

onclusion

;

R

ecommendations

.

 
Read the report: The Persecution of Unorthodox Religious Groups in China [PDF 1.4 MB]
A select list of relevant Dui Hua publications on the persecution of unorthodox religious groups in China is below:
Promoter to Pariah: Xinling Famen's "Unorthodox Buddhism", Human Rights Journal (June 22, 2023)
UN Submission Focuses on Persecution of Women in Unorthodox Religions, Human Rights Journal (May 9, 2023)
Clemency granted to "cult" prisoners in Guangdong women's prison, House church leaders released, Prisoner Updates 2023 #4 (March 29, 2023)
Falun Gong practitioners facing trials again in Beijing, Prisoner Updates 2023 #3 (March 10, 2023)
New details learned of in "Three Grades of Servants Sect" case in Yunnan, Prisoner Updates 2023 #2 (January 30, 2023)
Using economic crimes against house churches, Prisoner Updates 2022 #7, Part II (November 1, 2022)
Rare Sentence Reduction for Falun Gong Follower, Human Rights Journal (September 20, 2022)
House churches facing continuous crackdown, Prisoner Updates 2022 #6 (September 1, 2022)
Outspoken Christian activist received administrative detention in June, Prisoner Updates 2022 #4: (August 1, 2022)

Underground but Not Extinct: South China Church

,

Human Rights Journal

(April 26, 2022)

 

Printer of Falun Gong Material Released from Prison, Press Statement (March 23, 2022)
Elderly Falun Gong practitioner allowed to serve sentence outside of prison, Prisoner Updates 2022 #2 (March 31, 2022)

Shincheonji Church in China Before & Through the Pandemic

,

Human Rights Journal

(January 12, 2022)

 

Article 299: Criminalizing Disrespect of the National Flag, Part II

,

Human Rights Journal

(October 25, 2021)

 

Mainland China Administrative Deacon Station: Leaders Receive Lengthy Sentences

,

Human Rights Journal

(September 21, 2021)

 

Chinese Asylum Seekers in Bangkok, Part I

,

Human Rights Journal

(August 11, 2021)

 

Resurrecting the Jesus Family

,

John Kamm Remembers

(May 21, 2021)

 

Hefty Prison Sentences for Selling Audio Bibles

,

Human Rights Journal

(May 17, 2021)

 

Transparency in Inciting Splittism Trials

,

Human Rights Journal

(May 13, 2021)

 

The Ongoing Crackdown on Yi Guan Dao

,

Human Rights Journal

(April 8, 2021)

 

Church of Almighty God in Xuzhou

, Prisoner Updates 2021 #2 (February 23, 2021)

 

Dangerous Border Crossings: The Case of Cho Young-joo

,

Human Rights Journal

(February 11, 2021)

 

Tablighi Jamaat and Hui Muslims

,

Human Rights Journal

(January 12, 2021)

 

Detailed Court Statistics on Article 300, Part II

,

Human Rights Journal

(June 4, 2020)

 

Detailed Court Statistics on Article 300, Part I

,

Human Rights Journal

(May 28, 2020)

 

"Illegal Business Activity" and Christian Bookstores

,

Human Rights Journal

(May 9, 2018)

 

Will a New Judicial Interpretation on Cults Lead to Greater Leniency?

,

Human Rights Journal

( February 24, 2017)

 

China's "Almighty God" Rises with Threat of Apocalypse

,

Human Rights Journal

(December 17, 2012)