EVENTS
Summer of Sanctions: From Xinjiang to Fentanyl, US Government Goes After CCP
Rarely has the US government taken so many steps, in such a short period, to sanction the Chinese government over alleged human rights abuses.
Following the late-May announcement that Beijing would impose national security legislation on Hong Kong, President Trump announced on May 28 that his administration would revoke Hong Kong's preferential economic treatment. Weeks later, on June 12, the US State Department updated its travel advisory for Hong Kong, changing it from Level 1 ("Practice Usual Precautions") to Level 2 ("Exercise Increased Caution") "due to civil unrest, risk of surveillance, and arbitrary enforcement of laws other than for maintaining law and order."
On June 30, 2020 at 11:00PM, the Hong Kong national security law, or the Law of the People's Republic of China on Safeguarding National Security in the Hong Kong Special Administrative Region, was enacted. Secretary of State Pompeo said that the United States is "deeply concerned about the law's sweeping provisions and the safety of everyone living in the territory, including Americans." Pompeo further stated that some provisions, like Article 38 which might punish offenses committed outside of Hong Kong by non-residents of Hong Kong, are "outrageous and an affront to all nations." On July 1, the House of Representatives passed H.R. 7440, the Hong Kong Autonomy Act, with the Senate passing it the next day. The president signed the law into effect on July 14.
Building on the Hong Kong Human Rights and Democracy Act of 2019, the Hong Kong Autonomy Act requires the Secretary of State and the Secretary of the Treasury to identify foreign persons and financial entities contributing to the failure of China to meet its obligations regarding Hong Kong's autonomy, and it requires the president to impose sanctions within a given period of time. On the same day that the president signed the Hong Kong Autonomy Act, he also issued Executive Order 13936, "The President's Executive Order on Hong Kong Normalization," effectively ending preferential treatment for Hong Kong. On August 7, the Treasury Department announced sanctions against Carrie Lam and 10 other Hong Kong and Chinese officials over their role in the crackdown on Hong Kong.
These events have been preceded by administrative actions highlighting strained relations between the two countries. In April, the US Consulate in Guangzhou issued a travel advisory for African American citizens living in or traveling to the city. The travel advisory was issued in response to reports that those believed to be of African origin or with "African contacts" could be susceptible to mandatory testing and mandatory self-quarantine "regardless of recent travel history or previous quarantine completion." The advisory also stated that police "ordered bars and restaurants not to serve clients who appear to be of African origin" due to heightened scrutiny of foreigners triggered by a rise in COVID-19 infections.
The travel advisory was preceded by complaints from African ambassadors in Beijing who wrote to China's State Councilor Wang Yi to address the alleged discrimination. In response to news of the travel alert, foreign ministry spokesperson Zhao Lijian said, "We do not have discrimination in China against African brothers," and suggested that the travel advisory was "irresponsible," "immoral," and a way for the United States "to sow discord."
The US government's actions to challenge China over its treatment of the indigenous populations of the Tibetan Autonomous Region and the Xinjiang Uyghur Autonomous Region (XUAR) have also resulted in sanctions. H.R.4331 – Tibetan Policy and Support Act of 2019 passed the House of Representatives on January 28, 2020. The bill was introduced in the House on September 13, 2019 to modify and reauthorize the Tibetan Policy Act of 2002. The bill recognizes Tibetan Buddhists as the sole deciders of the succession of the Dalai Lama and calls for the creation of a new US consulate in Lhasa. Chinese officials interfering in the selection of Tibetan Buddhist leaders will be subject to sanctions under the Global Magnitsky Act. As of this writing, the law is pending approval in the Senate, having been referred to the Committee on Foreign Relations. On July 7, Secretary Pompeo cited the Reciprocal Access to Tibet Act of 2018 to announce new visa restrictions on Chinese government and Chinese Communist Party officials "involved in the formulation or execution of policies related to access for foreigners to Tibetan areas."
The Uyghur Human Rights Policy Act of 2020 was initially passed with unanimous consent by the Senate on September 11, 2019. However, the House of Representatives passed a stronger version on December 3, 2019. The revised version was introduced in and passed by the Senate on May 14, 2020 and then approved by the House on May 27. The president signed the bill into law on June 17.
The Act calls for sanctions against individuals and entities that are known to propagate human rights abuses against Turkic Muslim minorities in China under the Global Magnitsky Act. The law formally sanctions XUAR CCP secretary Chen Quanguo, XUAR former deputy party secretary Zhu Hailun, Xinjiang Public Security Bureau director Wang Mingshan, and Xinjiang Public Security Bureau former party secretary Huo Liujun. These officials were sanctioned by the treasury and state departments, and on July 20, the US Commerce Department added 11 Chinese companies to its Entities List due to their alleged involvement in human rights abuses in the XUAR. These events also follow a July 1 business advisory for US companies utilizing supply chains in the Xinjiang region.
One of the most publicized features of the Uyghur Human Rights Policy is its use of the Global Magnitsky Act. The sanctioning of Chen Quanguo marks the first time that a member of China's Politburo has been sanctioned since diplomatic relations between the United States and China resumed in 1979. Chen has allegedly gained a reputation as an "ethnic policy innovator." Prior to his work in Xinjiang, Chen spearheaded the crackdown in Tibet as the party's chief official in the region. On July 31, the Department of the Treasury's Office of Foreign Assets Control issued additional sanctions against the Xinjiang Production and Construction Corps (XPCC), as well as Peng Jiarui, XPCC deputy party secretary and commander and Sun Jinlong, former party secretary of the XPCC.
In an opinion article about the Trump administration's responses to China's Xinjiang policy, National Security Adviser O'Brien wrote, "As long as these human rights violations continue, the Trump administration will respond." Weeks earlier, on June 24, O'Brien delivered remarks in Arizona in which he stated, "America, under President Trump's leadership, has finally awoken to the threat the Chinese Communist Party's actions and the threat they pose to our very way of life" and referred to the notion that China "would liberalize to meet the rising democratic aspirations of its people" as "very naïve." He went on to characterize that notion as "the greatest failure of American foreign policy since the 1930s."
Chinese government officials have said that they would "take firm countermeasures." Foreign ministry spokesperson Zhao Lijian said, "In light of these wrong actions, China will impose reciprocal measures on U.S. officials and organizations that have displayed egregious behaviour in human rights in relation to Xinjiang affairs."
On July 13, the Chinese government said that it would impose sanctions against four US officials: Senators Ted Cruz and Marco Rubio, Representative Chris Smith, Ambassador at Large for International Religious Freedom Sam Brownback and the U.S. Congressional-Executive Commission on China. Senators Cruz and Rubio and Representative Smith have all sponsored legislation concerning human rights in China. A day later, on July 14, the Chinese government announced that it would sanction Lockheed Martin over a US arms sale to Taiwan.
On August 10, China announced retaliatory sanctions against 11 US citizens who "behaved badly on Hong Kong-related issues." Those sanctioned include Republican lawmakers who have been outspoken on issues related to China; the presidents of the National Endowment for Democracy, the National Democratic Institute, and the International Republican Institute; and two key figures from human rights organizations: Human Rights Watch executive director Kenneth Roth and Freedom House president Michael Abramowitz. Multiple press outlets noted that none of the sanctions affect the Trump cabinet and that the CCP sanctioned the same number of people, 11, as the US government did on August 7.
The White House continues to bear down on industries where it claims China is acting in bad faith. On July 17, the US Department of the Treasury sanctioned four China-based individuals and one company for their alleged role in trafficking fentanyl to the United States, with Deputy Treasury Secretary Justin Muzinich saying, "The United States is committed to holding drug traffickers and those who facilitate their operations accountable for the suffering they impose upon American families." On August 6-7, the White House issued executive orders prohibiting transactions with the owners of WeChat and TikTok and setting a de facto 45-day window for a company to purchase TikTok's US operations.
Consular Closures as US and China Trade Espionage Accusations
The summer of 2020 brought new developments in the confrontation between China and the United States. Dui Hua has studied these developments throughout the year, examining Congressional action against China and deteriorating public opinion of China. In July, the United States and China added a new dimension to their confrontation in the form of closing consulates.
On July 21, 2020, the US government ordered China to close its consulate in Houston within 72 hours. Officials alleged that the consulate acted as a hub for espionage and research theft. In opening remarks to the Senate Foreign Relations Committee on July 30, Secretary of State Pompeo said, "We closed the consulate in Houston because it was a den of spies." State Department spokesperson Morgan Ortagus said the closure was "in order to protect American intellectual property and Americans' private information." Following the consulate's closure on Friday, July 24, a US Justice Department official said that the consulate's activities "are a microcosm, we believe, of a broader network of individuals in more than 25 cities…supported through the consulates here."
Beijing issued a response of outrage and indignation. Foreign Ministry spokesperson Wang Wenbin called the abrupt closure order a "unilateral" and "unprecedented escalation" and said that "China urges the US to immediately withdraw its wrong decision, or China will definitely take a proper and necessary response." On Friday, July 24, the Chinese government ordered the US consulate in Chengdu to close. Ministry spokesperson Wang said that this was a "legitimate and necessary response" to the Houston consulate closure and accused Chengdu consulate staff of "interfering in China's internal affairs and harming China's national security interests." Tibet was in the Chengdu consulate's district at the time of its closure.
Following the tit-for-tat closures, each country now maintains four consulates in the other's territory. China has an embassy in Washington and consulates in Chicago, Los Angeles, San Francisco, and New York. The now-shuttered Houston consulate was the first to open in early 1979. The United States has an embassy in Beijing and consulates in Guangzhou, Shanghai, Shenyang, and Wuhan. It has a consulate in Hong Kong as well, but this consulate does not report to the Beijing embassy.
John Kamm Participates in Princeton in Asia Virtual Event
On July 9, Executive Director John Kamm joined a Princeton in Asia Storytelling event to share memories of his time spent in the fellowship program in Macau in 1972. The virtual event featured six other alumni of the Princeton in Asia fellowship program, who recounted their time spent in Egypt, Japan, Taiwan, India, and South Korea between 1962 and 2018. Over 90 fellow alumni of the program and guests listened and asked questions to the panelists.
Director Kamm had not previously written or spoken publicly much about his fellowship in Macau, so he was happy to explain the unique circumstances that led him to teach at Linson College in Macau and how that shaped his business career in Hong Kong and eventual human rights work with China. Fitting the storytelling event's theme of "Times of Change," Kamm described institutional shakeups at Princeton, where his class was the first to admit female students, and shifting power dynamics in Macau, where Portugal was ceding de facto control to China. He shared vivid memories of encountering a People's Liberation Army soldier in territory where the border was ill-defined, pro-Mao rallies on China's National Day, and his growing awareness of the fate of Chinese dissidents caught between the People's Republic and the Portuguese colonial authorities. You can watch an excerpt of his story here and read more about John's time in Macau in this month's installment of John Kamm Remembers.
---
PRISONER UPDATES
China has long taken aim at "negative information" about its one-party rule in cyberspace, but how it criminalizes disseminators of such information has not always been consistent. While "picking quarrels and provoking troubles" has been increasingly used to stifle dissenting voices, prosecutors have not entirely stopped using the endangering state security crime of inciting subversion to pursue online critics.
Two cases recently concluded in Jiangsu illustrate the overlapping scope of activities punishable under the two different crimes. On June 18, 2020, Ge Jueping (戈觉平) was sentenced to four years and six months with three years' deprivation of political rights for inciting subversion. About a month later, Wu Qihe (吴其和) received a prison sentence of three years and eight months for "picking quarrels." This crime does not carry a supplemental sentence of deprivation of political rights. Ge and Wu openly supported victims of forced evictions in Suzhou and actively took part in protests in support of evictee Fan Mugen, who was sentenced to eight years in prison for aggravated assault earlier in 2015.
Although Ge and Wu were sentenced for different crimes, prosecutors presented strikingly similar evidence against the duo. In addition to the public nuisance Ge and Wu allegedly created, the allegations centered on the negative information they posted online. Both were accused of using the Internet to hype up sensitive cases and incidents since 2013 by "distorting facts and maliciously attacking the nation's judicial system." However, only the acts committed by Ge were construed as subversive: the court held that Ge intended to "create an illusion of judicial injustice and antagonism between the government and people," with an ulterior motive to incite people to "gradually disintegrate the power basis of the Chinese Communist Party." Wu was similarly accused of "smearing, attacking the socialist system with Chinese characteristics," but no explanation was given as to why the same acts did not amount to incitement to subvert state power.
It is not immediately clear how prosecutors determine which crime to pursue. Given the similarity in the harshness of sentencing, this question matters little to China so long as dissent can be silenced. Obfuscating the political nature of Wu's case, the crime of "picking quarrels" perhaps provides an added benefit of avoiding scrutiny from observers.
"Picking quarrels" also appears to be a more likely option and results in lighter punishment if an individual only directs the criticisms against local officials. This point can be attested to by a case Dui Hua uncovered online: a court also in Jiangsu sentenced Wang Hongquan (王洪全) to 18 months in prison for "picking quarrels" because he allegedly set up a "fake" news media agency in Hong Kong and released a number of negative reports about government corruption, township elections, wage arrears, forced evictions and land seizures across multiple localities. The 14-page judgment said such coverage had a substantial negative impact on local government bureaus. There was no mention of how the negative coverage inflicted harm on the Chinese Communist Party or the socialist system.
Two other co-defendants were also convicted of "picking quarrels:" reporter Tang Yunli (唐云立) was sentenced to 13 months' imprisonment. Li Hede (李鹤德), who was responsible for promoting the news website, received a one-year suspended sentence.
---
PUBLICATIONS ROUNDUP
Featured: Human Rights Journal, July-August: Court Statistics on Splittism & Inciting Splittism, Part I, Part II, and Part III
Through July and August, Dui Hua's Human Rights Journal published a three-part series examining how charges of splittism and inciting splittism are applied in China. The series relies heavily on statistics from the Records of People's Courts Historical Judicial Statistics: 1949-2016.
Part I discusses the application of splittism and inciting splittism from 1998-2016, examining how the trends and sentencing corresponded to major incidents of ethnic unrest in China. Part II focuses on two major ethnic groups who are more likely to face trial for splittism and inciting splittism: Uyghurs and Tibetans. Part III looks at cases involving other groups, including Mongols and Han Chinese. While there is no available breakdown of ethnicities, the court statistics indicate that splittism and inciting splittism were disproportionately used against ethnic minorities.
Continue reading here. 
See Also: Human Rights Journal: Detailed Court Statistics on Article 300, Part I and Part II
---
JOHN KAMM REMEMBERS
John Kamm Remembers is a feature that explores Kamm's human rights advocacy prior to and since Dui Hua's establishment in 1999.
Macau Days
I entered Princeton University with the Class of 1973 in September 1969, fresh out of Neptune High School, New Jersey. The Class of 1973 was the first class to admit women; at the same time that it took this "revolutionary step," it sharply increased the number of admitted students of color and New Jersey High School graduates.
Not long after I arrived on campus, I heard about the "University Scholars Program," designed to acknowledge and support students of exceptional scholastic skills who wished to pursue an independent curriculum. I hadn't been invited to the meeting at which the dean of studies introduced the program, but a couple of dorm mates had gone and brought back materials that outlined what the program was all about.
I went to the Dean's office and submitted an application to undertake a course of study combining anthropology (my major) and East Asian Studies (my minor). To my surprise my application was accepted. I was no longer required to fulfill university requirements to graduate (no calculus for me!); I only needed to fulfill department requirements: take the requisite number of courses and write a senior thesis.
In February of my junior year, President Nixon visited China. I was determined to go to China, but I didn't want to spend time in Taiwan, then run by the Kuomintang, Hong Kong, a British crown colony, or Singapore, ruled with an iron fist by Lee Kwan Yew. That left Macau, a sleepy Portuguese settlement across the Pearl River from Hong Kong.
Macau Governor Apologizes
Macau was the next best thing to going to China. Red Guards had mounted city-wide protests in December 1966, and they were met with force, resulting in death and injury to many. Local Chinese residents boycotted Portuguese products and refused to sell products to Portuguese families. Eventually, the Portuguese government was brought to its knees. The governor, Jose Carvalho, signed a humiliating letter of apology for the actions of troops and police against the protesters; he did so under a portrait of Chairman Mao.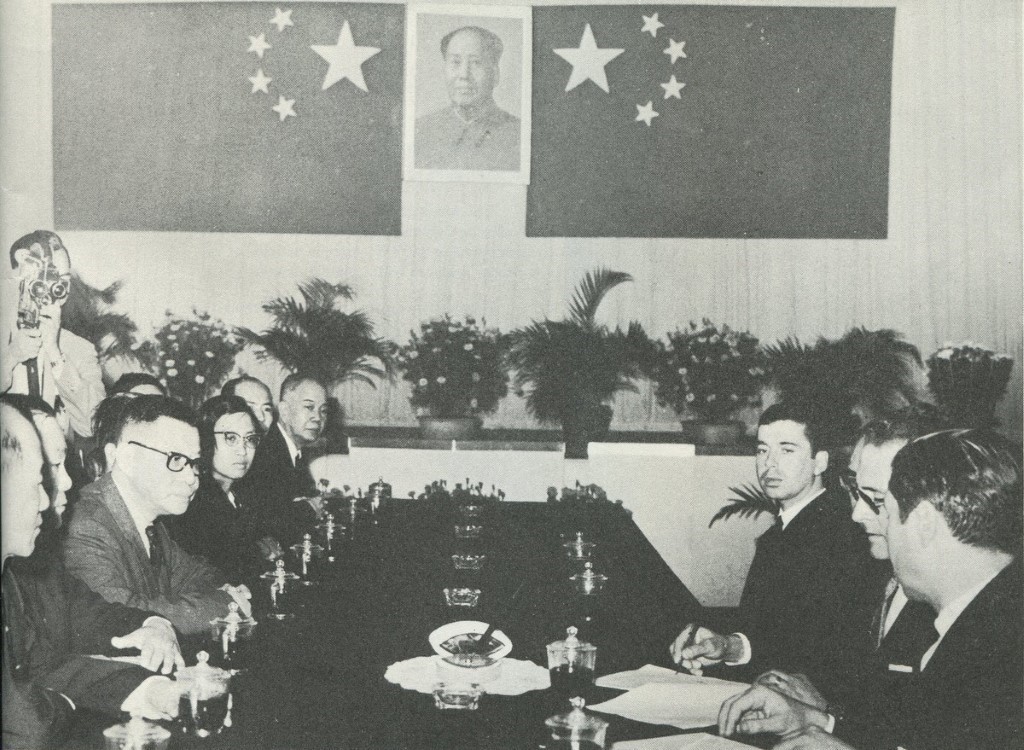 Carvalho sat atop a local government bureaucracy made up officials from Lisbon and local Macanese, who enjoyed a distinct culture and spoke their own dialect, but the real power was wielded by Ho Yin, a Beijing loyalist. Ho Yin's son would go on to become the first Chinese governor of Macau after the December 1999 reversion to China.
To everyone's surprise, Beijing did not force the Portuguese to leave Macau as they had been forced out of Goa by India in 1961. Portuguese traders had settled Macau in the early 16th century, making it the first foreign settlement in China. It was destined to be the last. After the Portuguese "Carnation Revolution" in 1974, Portugal tried to give Macau back to China, but Beijing demurred out of concern that such a development would destabilize Hong Kong. Macau was eventually returned two years after Hong Kong's 1997 return to China.
Having made up my mind to graduate from Princeton a year early, I went to see Bob Atmore, who headed the Princeton-in-Asia office in Jones Hall. I asked him what he had in Macau. He pulled open a box of index cards, blew off the dust, and pulled out a card for Linson College, a secondary school in Macau established and run by the first Chinese graduate of West Point, Linson Edward Dzau. I wrote to the headmaster, and was offered a job as a teacher, for 500 patacas (US$100) a month, room included.
The college and the anthropology department approved my application to graduate with the Class of 1972. I got my degree in June and then went to Middlebury College for several weeks of Chinese language training before packing my bags and heading to JFK airport for my August 22, 1972 flight to Hong Kong. I arrived in the British colony on August 23, 1972. The next day I took the hydrofoil to Macau, arriving around noon.
I was met by the school's groundskeeper, and together we went in a cab to the school, a stately if rundown family mansion that had once been the residence of a fireworks manufacturer. Americans of a certain age will remember that Macau was a major source of firecrackers and other fireworks set off during the Fourth of July. By the time I arrived in Macau in 1972, most production had shifted to southern China.
I was shown to my room on the third floor. I had a simple meal and turned in. I awoke in the middle of the night to have a glass of water from a thermos. That's when I learned that Chinese prefer drinking hot water to drinking cold water. I burned my mouth taking a swig of boiling hot water.
Tipping the Dogs
By the time I arrived in Macau, Linson College was in dire financial straits. Headmaster Dzau's principal benefactor, a fellow West Point graduate, had passed away and tuition from students wasn't enough to keep the school going. In October, the headmaster told the teachers that he could no longer pay salaries. They left in droves, leaving me to teach all subjects. I earned money by "tipping the dogs" at Macau's Canidrome for a Hong Kong tabloid and enjoyed a string of luck at the casinos.
Finally, I left Macau on Christmas Day, 1972 – four months after I had arrived. I had visited the British colony on several occasions including one memorable one when I sat on the upper of a Chinese ferry drinking North Korea brandy and smoking Albanian cigars. After settling in Hong Kong, I landed a teaching position at the Chinese University of Hong Kong in Shatin.
Reflecting its 400 years as a Portuguese-governed territory, there was much evidence of Portugal's presence in Macau in 1972. The architecture, the cuisine, even the colorful uniforms of those in the police force recruited from African colonies, all reflected the deep historical ties between Macau and the mother country. Yet, as I had suspected, China's influence in and control over Macau was everywhere to be seen. Let me relate a few experiences that speak to this observation.
Ilha Verde (Green Island)
A group of teachers at Linson College decided to teach me mahjong, the tile-based games invented in China during the Qing Dynasty. On weekends we would visit mahjong parlors in different parts of the city. Being a novice, I spent long hours observing how the game is played.
On one occasion the group traveled to Ilha Verde, a district in northwestern Macau on the border with the mainland. At some point I decided to take a break and wander around the neighborhood. As the name implies, Ilha Verde was originally an island. It sported a military barracks, a convent, and a cement factory. Over the years, land was reclaimed with the result that it was no longer an island.
I walked into an area of undeveloped land. There were no buildings. To my left was a stream that apparently marked the boundary with China. Suddenly, a few yards away, a young soldier of the People's Liberation Army (PLA) stood up. He was guarding the border with a rifle. I froze, as did the soldier. I smiled, waved, and quickly retreated.
The next week the group decided to visit the same parlor. As we approached it in our car, we found our way blocked by a police barricade. Foreigners were barred from entering the area. It had been closed by order of the Chinese government. I never again entered the area.
Taipa
Macau consists of three parts, the city, which sits on a peninsula, and two offshore islands, Taipa and Coloane. In 1972, the peninsula had not yet been joined by a bridge to Taipa. (It was said that Chinese workers worked slowly in order to make sure that a causeway linking two islands opposite Macau would be completed first.) Access to the islands was by a ferry run by a Chinese company and staffed with Chinese sailors. As the ferry approached Taipa, one could see large hoardings praising Chairman Mao on a nearby Chinese island. There was also a sign prohibiting photographs of Chinese territory. Ferry staff were vigilant in enforcing this rule. Tourists who took photos had their cameras seized.
I loved visiting the islands. They provided a glimpse of rural China, as well as a number of beautiful churches and chapels. Some of the best Macanese restaurants were to be found on the islands. On Coloane, there was a wonderful beach with a villa above it. This building would eventually become the Pousada de Coloane, a traditional Portuguese Inn.
On one trip I was invited to dinner by the police commander of Taipa. He was a former Portuguese officer who had lost an arm in the colonial wars in Angola and Mozambique. He related a story that deeply affected me.
The night before, a refugee fleeing from China had scaled his garden wall and appealed to the commander for shelter. Much as he would have liked to do so, he was unable to shelter the refugee. Under an agreement with China, individuals who fled China to Macau were promptly returned to China. (At the same time that the Macau government issued its apology, it handed over seven Kuomintang "spies," setting the tone for what was to come.) Sometimes, PLA troops entered the territory to enforce this policy. The officer had informed his commander, and the refugee was picked up and delivered to the PLA.
The People's Republic of China was admitted to the United Nations in 1971. At the time, Macau housed an office of the United Nations High Commissioner for Refugees, managed by a Norwegian national and his Australian secretary. The office's principal work was to help refugees from China, those who had managed to escape forcible repatriation to the mainland, as well as refugees from Southeast Asian countries including Myanmar and Cambodia. China took the position that the office needed to close since there were no Chinese refugees in Macau, which was Chinese territory. The office closed in 1973, shortly after I left the territory.
National Day
Following the December 1966 disturbances, the government of Macau declared that China's National Day would be celebrated as public holidays on October 1 and October 2. Marches of "patriotic" Macau residents and large rallies took place. The largest rally took place at a sports field adjacent to the Lisboa Casino. Thousands of people gathered in a festive atmosphere marked by singing and dancing. There were political speeches and signs praising Chairman Mao and the Chinese Communist Party. A few called for the "liberation of Taiwan."
Shortly before the holiday, I was approached by a teacher who advised me not to go out in public during the National Day holidays. Not a few people thought I was a CIA spy. If, my friend advised, I went out, then I should not take public transport (the drivers were members of a left-wing union) and, most important, I was told not to take a camera with me.
I took my friend's advice and walked south to the Leal Senado, the seat of the Municipal Council, in downtown Macau. Afterwards I set out in the direction of the Lisboa Hotel. On the way I passed a bookshop owned by a PRC company. In the window was a large aquarium with a model of a sunken American submarine resting on the bottom.
I figured that were I stopped, I would simply say I was on my way to the casino to play blackjack. When challenged, this seemed to work. Aside from hostile looks, I was not disturbed. I watched the rally from the steps of the Lisboa and then walked back to the Linson College.
First Impressions
My first and most enduring impressions of China were formed during the four months I spent in Macau in 1972. I began to see China as both intensely ideological but also very practical – it could have seized Macau in 1966 but chose not to out of concern that doing so would undermine stability in Hong Kong.
China was determined to protect its boundaries, but at the same time it was reasonable and non-violent. The young soldier could have shot me at close range, but he let me go. Finally, I came to understand that the Chinese government would seek to maximize control over the movements its citizens. Those who dared to flee China to Macau would be captured by the Portuguese and forcibly returned to the mainland to face an uncertain fate.