Chinese and US participants and Dui Hua directors and staff attend a welcome dinner at Director Maggie Yum's home.
China's dedication to juvenile justice reform has led to a decline in national delinquency and the emergence of specialized treatment for youth at odds with the law. While much has been accomplished since China established its first juvenile tribunal in 1984, further development informed by international methods remains crucial.
Looking towards the implementation of new juvenile procedures introduced in amendments to China's Criminal Procedure Law (CPL) earlier this year, Dui Hua hosted its third Juvenile Justice Expert Exchange with China's Supreme People's Court (SPC) in September. The two previous exchanges, held in 2008 and 2010, introduced progressive measures for handling juveniles that were largely incorporated into China's amended CPL. The third exchange brought a Chinese delegation of seven juvenile judges and experts to the Bay Area to tour juvenile facilities, observe trials, and meet with local experts in San Mateo, San Francisco, and Santa Clara counties. Senior Judge Ma Dong of the SPC Juvenile Court Guiding Group led the delegation and was joined by two colleagues from the SPC Juvenile Court Work Office and four judges from the provincial courts of Heilongjiang, Hunan, Henan, and Fujian.
Rehabilitation and Restorative Justice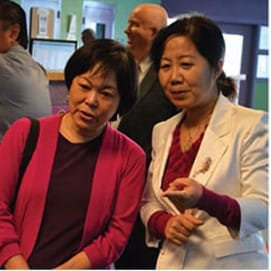 Henan intermediate court Vice-President Li Qihong (right) tours a San Mateo juvenile detention facility with interpreter Sonia Ng.
The delegation first traveled to San Mateo County where they were hosted by Judge Elizabeth Lee at the Youth Services Center (YSC), a state-of-the-art facility for juvenile offenders with an emphasis on rehabilitation and restorative justice. Due to YSC's integrative design, delegates were able to learn about the functioning of San Mateo's entire juvenile justice system all in one place. Composed of courtrooms, a detention center, a fully accredited school, and the county's juvenile probation department, YSC allowed delegates to gain first-hand experience in everything from intake by police to release on probation.
The importance of probation officers in enforcing court dispositions and monitoring rehabilitative progress was one recurring theme. It was showcased during a ride-along with the San Mateo Juvenile Probation Department. Chinese delegates accompanied three probation officers into the field to make unscheduled house visits to youth on probation. The purpose of the routine visits is to ensure that youth are abiding by the conditions of their probation and that their homes are safe and free of dangerous or suspicious activity. During the ride-along, one youth agreed to talk with Chinese delegates about the conditions of his probation and his experience in the justice system. Taking advantage of the unexpected meeting, the judges asked him whether he faced any social stigmas and what his plans were after probation. In a system without probation officers to split heavy caseloads, Chinese juvenile judges are often unable to provide much individual attention to juvenile cases.
Chinese delegates also observed a mock victim-offender mediation, which displayed the cooperative nature of San Mateo's Juvenile Mediation Program and its capacity to provide compassionate resolution to juvenile delinquency. The mock mediation—which involved a juvenile who stole a laptop from a home and sold it to a friend—was conducted in three parts, each involving different participants: offender-mediator, victim-mediator, and victim-offender-mediator. After emotional testimonies from both sides, the offender met her victim face-to-face to apologize and express remorse for her actions. The mediation ended with the parties agreeing to a peaceful and practical resolution.
Specialized Courts, Record Sealing
In San Francisco, the delegation learned about the Juvenile Collaborative Reentry Team (JCRT), a specialized juvenile court which focuses on coordinating and implementing comprehensive reentry plans and aftercare services for "high-need" youth soon to be released from out-of-home placement. The goal of the court is to reduce recidivism, and in only a few years of operation, this is being achieved. In 2011, 12 percent of youth served by the JCRT committed an additional offense, compared with 41 percent of San Francisco youth not served by that court. (In a recent white paper on judicial reform, China said that juvenile recidivism remained around 1–2 percent from 2002 to 2011, but how recidivism is defined is unclear; aftercare services are limited in China.) The JCRT is led by Superior Court Judge Kathleen Kelly and supported by the San Francisco Juvenile Probation Department, the Public Defender's Office, and a community-based aftercare service.
Santa Clara County welcomed delegates to observe a morning session of its Juvenile Treatment Court. Led by Judge Carrie Zepeda, the court provides intensive, multi-agency treatment and services to youth whose legal troubles started with substance abuse. During the proceedings, Judge Zepeda met with nearly a dozen service providers from various agencies to consider five specific cases. After discussing progress reports, the juvenile's issues at home and school, and their relationships with family and friends, the team proposed next steps in the treatment program. Youth are not present during the morning sessions but are brought into the court during same-day afternoon sessions for a status report and update on the decisions that were agreed upon during the morning session.
Together with juvenile records sealing, specialized courts help troubled youth make a fresh start. For more than 50 years, records sealing has been a common way to promote rehabilitation in the United States. In 2011, the practice was incorporated into China's amended CPL. While in Santa Clara, Judge Leonard Edwards (ret.) primed delegates on best practices.
Roundtable Wrap-Up
The exchange program ended at UC Hastings College of the Law in San Francisco. The Chinese delegates were joined by local law professors and experts for a roundtable session organized by Dean Frank Wu and Associate Professor Keith Hand. The forum provided an academic yet relaxed conclusion to the week of programs. SPC Judge Jiang Ming gave an informative presentation on the expansion of juvenile justice in China, highlighting the achievements and reforms that have been made over a short period of development. UC Hastings professors followed up with short presentations on a collection of topics, including how juvenile delinquency is taught in American law schools—a topic suggested by the Chinese delegation.
Near the conclusion of the roundtable, San Francisco Judge Julie Tang offered a brief summary of the programs over the past week and the importance of the exchange in improving the lives of young people in both China and the United States. Chinese delegation leader Senior Judge Ma Dong closed the event with an expression of gratitude for the hospitality his group received and an acknowledgement that the deeper and more comprehensive understanding of effective juvenile programs gained by the delegation throughout the exchange will have an impact on their work in the future. ■
In addition to those mentioned above, Dui Hua would like to recognize San Francisco Superior Court Judge Lillian Sing, California Supreme Court Justice James Lambden, and interpreters Sonia Ng and Chi Ho Chan.
Landmarks in Chinese Juvenile Justice
Less than 30 years ago, China had just one juvenile tribunal. Today, there are 2,331 juvenile tribunals and 7,450 judges adjudicating juvenile cases. The Supreme People's Court (SPC) divides the history of China's juvenile justice system into four phases:
Juvenile court pilots (1984–1988);
Nationwide expansion of juvenile courts (1989–1993);
Development of institutional systems and mechanisms (1994–2003);
Reform and gradual improvement (2004–present).
Below are some highlights.
1984

Shanghai establishes first juvenile tribunal

1991

Jiangsu establishes first comprehensive juvenile court to hear criminal, civil, and administrative cases

1998

Jiangsu establishes first inter-regional juvenile tribunal to hear juvenile cases in a centralized manner

2006

SPC launches juvenile court pilots at the intermediate-court level

2008

2010

2011

Criminal Law amendments include juvenile probation, lenient sentencing, etc.
Criminal Procedure Law (CPL) amendments include juvenile records sealing, diversion, etc.

2012

2013

CPL effective January 1