Orrin G. Hatch, the longest serving Republican senator and longest serving Utah senator, passed away on April 23, 2022, in Salt Lake City, Utah. He was 88 years old. He served six terms in the United States Senate and chaired the Senate Judiciary Committee for a total of eight years.
Senator Hatch was born in Pennsylvania to Jesse Hatch and Helen Kamm, both of whom grew up in Utah. His grandfather was John Kamm, a fabled man of the Old West. Orrin Hatch was a bishop of the Church of Latter Day Saints and a staunch supporter of religious freedom.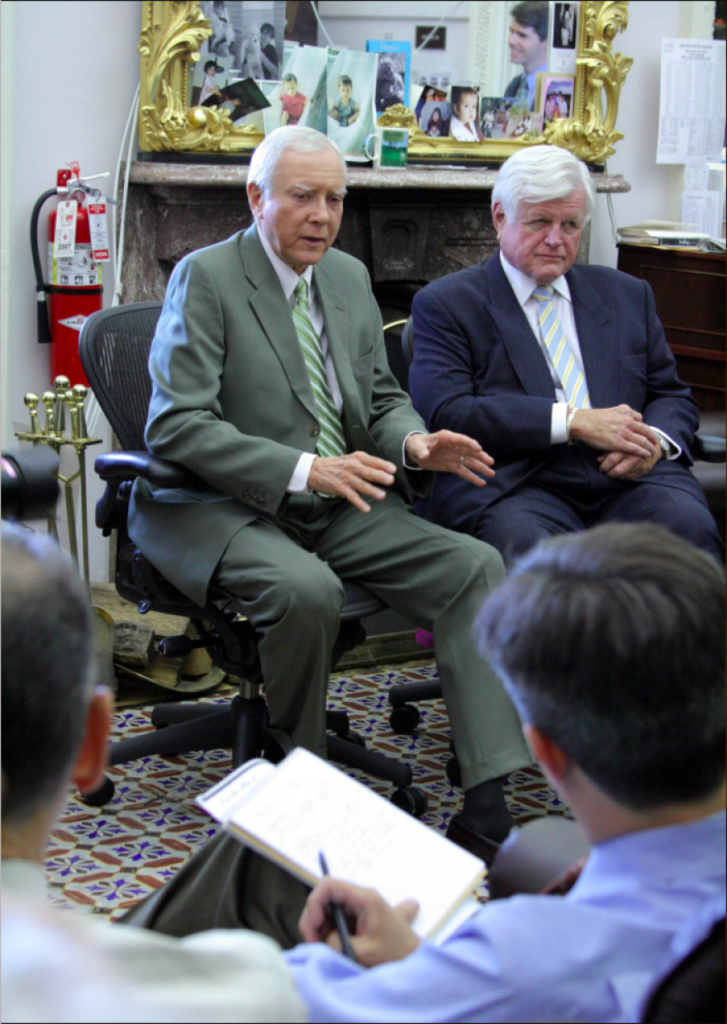 Senator Orrin Hatch was an original. Although he was a rock-solid conservative, he reached across the aisle to work on legislation with Democratic leaders. One of his best friends was liberal icon Senator Edward Kennedy. A talented musician and songwriter, Senator Hatch appeared in cameo roles in several movies. He generally supported good ties with China and favored renewing China's trade status in the United States and admitting the country into the World Trade Organization.
Senator Hatch was a friend, strong supporter of my work, and a relative who wrote 11 letters to senior Chinese and American officials, including President Bill Clinton, urging cooperation with my work on Chinese political and religious prisoners. He welcomed me to his office on every trip I made to Washington, including one I made with my oldest son Jack in the summer of 2000. In December 2018, weeks before he stepped down as a senator, Senator Hatch nominated me for the Nobel Peace Prize.
Trip to China
I met Orrin Hatch and his wife Elaine in Beijing in October 1997, shortly before Chinese President Jiang Zemin made his final state visit to the United States. The trip had been arranged by an American foundation specializing in making grants to support work on international relations. Upon seeing me for the first time, Senator Hatch remarked to his wife that I resembled his grandfather. I gave Senator Hatch a prisoner list with 37 names from 20 provinces, and he in turn handed the list to Minister Xiao Yang, then Minister of Justice and President Jiang Zemin. For more details on Senator Hatch's visit to China, see "Cousin Orrin."
Not long after Senator Hatch gave the list to Minister Xiao Yang, several of the prisoners whose names were on the list were released from prison, some with months and years of time left to serve. Clemency began within weeks of Minister Xiao's accepting the letter. Eventually as many as one-third of the prisoners on the Hatch List were granted commutations, sentence reductions leading to release, and medical parole. Those who benefited included long-serving counterrevolutionaries, June 4 prisoners, and the Tibetan ethnomusicologist Ngawang Choephel.
Letters to Chinese and American Leaders
In early 1998, Senator Hatch began writing letters to senior Chinese and American officials including Minister Xiao Yang, his successor Gao Changli, and President Bill Clinton.
On February 25, 1998, the senator wrote to Minister of Justice Xiao Yang to thank him for recently providing me with information on prisoners. He stressed that the prisoner information project between me and the ministry was heralded as one of the accomplishments of the previous autumn's Jiang-Clinton summit.
On May 22, 1998, Senator Hatch wrote to Xiao Yang's successor as Minister of Justice, Gao Changli, reminding the minister that he had had several positive exchanges with his predecessor regarding John Kamm's prisoner information project. "I hope that we can continue to discuss this valuable project which has garnered the attention of many leaders and citizens in this country."
In a letter sent to President Bill Clinton on September 28, 1998, Senator Hatch advised the president that he had taken a strong personal interest in my work and asked him to raise the recent lack of progress on the project with visiting Chinese Foreign Minister Tang Jiaxuan.
On October 28, 1998, President Clinton responded. "We are in complete agreement about the importance of promoting Mr. Kamm's project." He went on: "In her meeting with Foreign Minister Tang, Secretary Albright urged the Chinese to resume cooperation with Mr. Kamm. In my meeting with Tang, I urged release of prisoners detained under laws that have been repealed, a reference to the Law on Counterrevolution that is no longer on the books. Mr. Kamm has been very active raising Chinese consciousness on this issue."
Senator Hatch's interest in my work had a direct impact on my work to free Chinese prisoners. For this, and for many other kindnesses, I will always be grateful to my "Cousin Orrin."
---