Notable ESS convictions
US citizen John Shing-wan Leung (梁成运, pinyin: Liang Chengyun) was sentenced to life in prison for espionage by the Suzhou Intermediate Court on May 15, 2023. The news was first reported by the provincial Political-Legal Affairs Commissions. Leung, 78-years old, is a permanent resident of Hong Kong, but he apparently used his US passport to enter China. He was detained upon entering China in April 2021. The US State Department has said that it is aware of the case, but it is not known whether US officials attended his trial nor is it known if they have been allowed to pay Leung visits in the detention center.

Leung joins Li Kai as a US citizen serving a long sentence for "endangering state security" (ESS) in a Shanghai prison. Leung and Li are thought to be the only US citizens serving sentences for ESS in China.
On May 11, the Guangzhou Intermediate People's Court sentenced prominent activist Yang Maodong (杨茂东), also known by his penname Guo Feixiong (郭飞雄), to eight years' imprisonment with three years' deprivation of political rights (DPR) for subversion. Prior to this, Yang was sentenced to five years and six years in 2007 and 2015, respectively, and served a total of 11 years in prison without a single sentence reduction.
Yang had attempted to travel to the United States in 2021 to take care of his wife who was battling terminal cancer but was prohibited from leaving China on the grounds of ESS. In response, Yang staged an indefinite hunger strike and called upon the West to use diplomatic means to assist him to see his dying wife. In November 2021, he issued an open letter to Xi Jinping and then premier Li Keqiang about his request to have the exit ban lifted.
Less than a month later, Yang was accused of "smearing" the Chinese political system through dozens of "incitement" essays he published online, a website he founded to promote constitutional democracy, and interviews he gave to the foreign media about the exit ban. Yang will have spent 19 years in prison over the course of his life by the time of his scheduled release in 2029.
Dui Hua vigorously intervened on Yang's behalf in 2018, contributing to the Guangdong Prison's decision to move Yang from a prison where he was badly treated to a prison where he was treated better.
In another ESS case which has garnered little overseas attention, Hong Kong resident Qin Qiuyan (覃秋艶) received a six-year prison sentence for inciting subversion in Liuzhou, Guangxi. The exact date of her sentence is unknown. She was en route to her hometown in Guangxi but was intercepted in Shenzhen in March 2021.
Unofficial news media sources reported that Qin actively participated in the anti-extradition bill protests in the former British colony and posted frequent updates about the civil unrest on her Twitter account. Qin returned to China when lockdowns and quarantine were in place the second year into the COVID-19 pandemic. Upon completing the 14-day mandatory quarantine in Shenzhen, she was criminally detained and transferred to Liuzhou.
---
Veteran activist sentenced in Guangzhou after two years in custody
Convicted of "picking quarrels and provoking trouble," veteran activist Wang Aizhong (王爱忠) was sentenced to three years of prison by Guangzhou Tianhe District People's Court on May 18.
Wang has been in custody since May 28, 2021. The Tianhe District Procuratorate filed an indictment in January 2022. His imprisonment stemmed from vague accusations that he spread false news from foreign media on his WeChat account and made false statements on overseas social media. However, other than Wang's social media accounts, the procuratorate did not present evidence of the content of Wang's supposedly false posts nor the specific incidents on which Wang commented. The court nonetheless determined Wang caused "harmful results of creating chaos in public order."
Wang is expected to complete his sentence on May 27, 2024.
---
Taiwan resident formally arrested in Wenzhou for inciting splittism
Yang Zhiyuan (Yang Chih-yuan 杨智渊), a Taiwan resident, has been formally arrested for inciting splittism, an ESS crime. The news was made public by the Supreme People's Procuratorate on its official Weibo account on April 25.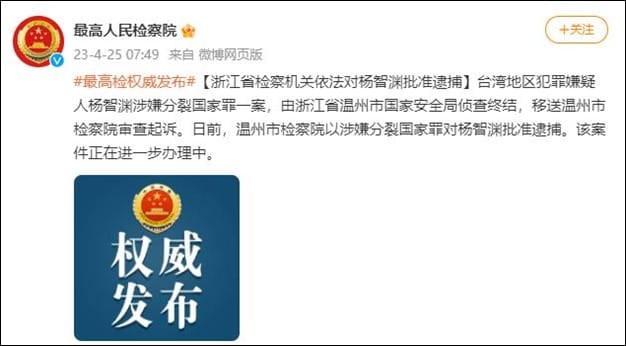 According to the Weibo post, the Wenzhou State Security Bureau in Zhejiang Province has completed the investigation. The case is being transferred to the Wenzhou People's Procuratorate, pending indictment.
Yang was taken into custody on August 3, 2022, and placed under Residential Surveillance in a Designated Location (RSDL) on August 5. RSDL is a coercive measure frequently employed by state security in ESS cases, often at undisclosed locations, to prevent suspects from receiving legal counsel and family visits. RSDL can last up to six months.
This is the first known case of a Taiwan resident being charged with ESS for activities not conducted in mainland China, but in the democratic island of Taiwan. Yang is a career community activist in Taiwan and founded several minor political parties in the 2000s that promote Taiwan statehood. It is believed that China is using the case to warn Taiwanese activists that advocating for independence – even when outside of mainland China – could result in criminal prosecution.
However, friends and acquaintances claimed Yang had shifted his view to pan-unification and had taken up permanent residence a couple of years ago in the mainland to explore business opportunities. Despite this, a CCTV report following his detention accused Yang of "colluding" with "Hong Kong independence" forces during the 2019 Anti-Extradition Law Amendment Bill Movement.
---
Taiwanese publisher Li Yanhe disappeared
One day after China formally pressed splittism charges against Yang, the Taiwan Affairs Office responded at a press conference that Li Yanhe (李延贺, aka Fuchsia ) was "under investigation by national security organs on suspicion of engaging in activities endangering state security." It was later revealed that Li has been under RSDL for inciting splittism since March 21, 2023.
Li, born in China, married a Taiwanese woman and settled in Taiwan in 2009. He is the editor-in-chief of Gusa Publishing, which has published books on politics and history critical of the Chinese Communist Party. He went to Shanghai to revoke his mainland residence registration (hukou) in addition to visiting relatives. Despite obtaining his Taiwan ID card, Li was mandated by Taiwanese law to revoke his mainland hukou to obtain the right of abode on the island.
---