After long delay, leaders of Gongmen 公盟 sentenced
After spending over three years in pretrial detention, legal scholar Xu Zhiyong (许志永) and lawyer Ding Jiaxi (丁家喜) were sentenced to 14 years and 12 years in prison, respectively, on April 10. The harsh sentences given to them not only garnered extensive media coverage but also evoked a response from UN High Commissioner for Human Rights Volker Turk, who described the punishment as being "at variance with international human rights law standards."
Xu and Ding were convicted of subversion, a crime of endangering state security. The trial was conducted by Linyi Intermediate People Court, with sentencing announced at Linshu County Court, Shandong. The trial commenced behind closed doors in June 2022.
Both men are leading figures of the New Citizens Movement, which sought greater transparency into the wealth of officials. Ding was first taken by police in December 2019 not long after attending a gathering with 20 lawyers and activists to discuss politics and current affairs. Xu went into hiding after penning an essay calling on Xi Jinping to step down over his handling of the COVID-19 pandemic but was eventually tracked down by the national surveillance camera system in Guangzhou. Both of them have been denied meetings with defense attorneys and visits from family members for prolonged periods of time.
Xu is expected to complete his prison sentence in February 2034 at the age of 61. Additionally, he is obliged to serve a supplemental deprivation of political rights (DPR) for four years until 2042. Ding will be 65 years old when he is scheduled for release on March 21, 2032; his three-year DPR sentence expires in 2035.
---
Guangxi lawyer sentenced
In a separate endangering state security case, the Nanning Intermediate People's Court convicted Qin Yongpei (覃永沛) of inciting subversion on March 31 and sentenced him to five years in prison with a supplemental DPR sentence of three years. The case has similarly elicited a response from the United Nations. In September 2022, the Working Group on Arbitrary Detention ruled that Qin has been subject to arbitrary detention because his alleged crime is ill-defined and fails to meet the principle of legal certainty.
The conviction stemmed from the critical Weibo posts he published and his role in forming a support group for disbarred human rights lawyers. In a legal career spanning more than ten years, Qin has defended other human rights lawyers who faced reprisals from authorities and provided legal assistance to vulnerable groups.
Qin has lodged an appeal in an attempt to overturn the conviction. Even though he has less than 19 months of sentence remaining, the long delays in the sentencing might have deprived Qin of a chance for clemency after being admitted into a prison. The 2016 sentence reduction and parole regulations by the SPC restrict clemency applications for crimes such as endangering state security. To qualify for a reduction, Qin would have to serve at least 24 months in a prison.
Qin's sentence expires on October 30, 2024.
---
Lawyer and wife missing in Beijing
Lawyer Yu Wensheng (余文生) and wife Xu Yan (许艳), were reportedly missing in Beijing on April 13, when the couple were en route to attend an event at the German Embassy in Beijing. The couple has been placed under criminal detention for "picking quarrels and provoking trouble."
The incident unfolded quickly on a subway train shortly after 4:00pm in Beijing. Yu fired off three short tweets:
"Xu Yan and I are blocked by police at a subway station! Not permitting us to go to the embassy"

"The police have issued a summon to us"

"We are being taken away"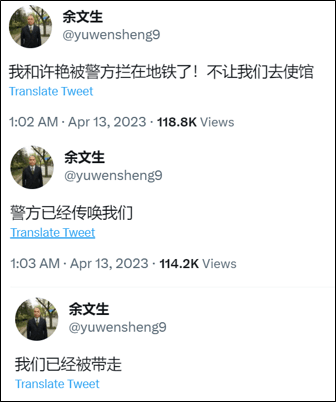 Xu posted six tweets on her account around the same time, including video clips of her exchanges with a plain-clothes police officer who repeatedly tried to prevent them from going to the EU mission. The police evaded Xu's questions as to why they were being blocked. Xu can be heard in the video loudly protesting and refusing to "just return home" as other passengers looked on.
In another video clip, the police verbally informed the couple that they had been summoned by the Shijingshan District Sub Bureau for "picking quarrels and provoking trouble" while refusing to provide any justification. Xu requested that the police produce his police badge and the police complied. They were then seen being removed from the train at the Erligou Station. In her last tweet, the couple were seen being put in a vehicle. Xu claimed they were being taken to Bajiao Police Station (in the Shijingshan District). However, friends claimed on social media that they have been unable to receive confirmation from the police station.

Yu was released from prison on March 1, 2022, after serving four years in prison. Yu was detained in January 2018 after he posted an open letter calling for constitutional amendment. He was convicted in a closed trial of inciting subversion in June 2020. Yu is serving his supplemental three-year DPR sentence, which prohibits him exercising rights such as standing for elections, voting, and engaging in activities like speaking to the press or participating in public gatherings. Even though DPR does not restrict a person's freedom of movements, in practice high-profile individuals such as Yu are considered "important targeted population" and are known to be under constant surveillance and face harassment by the police.
Yu was an outspoken rights lawyer before his license was revoked. He had defended partitioners of unorthodox religions, activists, and dissidents. Yu had been detained twice before in 2014 and 2015 for "picking quarrels and provoking trouble" when he spoke out against crackdowns on lawyers. The night before his more recent ordeal, Yu criticized the harsh sentencings of Xu Zhiyong and Ding Jiaxi in their high-profile cases. Xu Yan was herself summoned by police for incitement in April 2018 for advocating for Yu's release. She was released after.
---
Christian protester released
On April 4, Gao Heng (高恒) completed his prison sentence of one year and 10 months for "picking quarrels and provoking trouble," about two weeks after he was convicted by the Panyu District People's Court on March 21. Gao was placed under criminal detention on June 5, 2021, one day after he stood at a subway station in Guangzhou holding a sign: "June 4, Pray for the Country" on the 32nd anniversary of the brutal crackdown on the student-led pro-democracy movement in Beijing and other cities. Gao also posted on social media about the tragedy and called on the Chinese government to officially redress the wrongs of June 4.
---
Citizen journalist who exposed dire situation in Wuhan under COVID lockdown to be released
Fang Bin (方斌), a citizen journalist who posted a series of livestreams online showing the dire situation in Wuhan under COVID lockdown, is expected to complete his three-year prison sentence on April 30, 2023. His sentence was not known to the public until this month when news media provided updates about his case three years after he was taken into police custody. His family was reportedly informed by the authorities pending his release and told to keep an eye on him.
Fang's videos taken at morgues during February 2020 helped call attention to the high death rate when the world was just beginning to grasp the seriousness of the pandemic. He publicly criticized the situation in the city as a "man-made disaster." The charge against Fang was never made public nor was it communicated to the family. Fang was convicted of "picking quarrels and provoking trouble" in a closed trial by a court in Wuhan, but exact the date when he received the prison sentence is unclear.
---
The young women of the "white paper" protests
The world witnessed self-organized vigils for the Urumqi fire victims and "white paper" protests against zero-COVID policies across China at the end of 2022. Young people, particularly women, were at the front line of those gatherings. The authorities did not immediately make the arrests, but in January numerous reports emerged about the "white paper" protestors being detained. Even though many have reportedly been released on bail, several remain in custody and their cases are used as examples to dissuade further activism.
Among those taken into custody are a group of young women from Beijing who attended the gathering at the riverbank of Liangmaqiao in Beijing in November. The women are a group of writers, journalists, artists, and filmmakers with no prior activism experience. Six of them were originally detained for gathering a crowd to disturb social order but were arrested for "picking quarrels and provoking trouble" in late January.
At the time of writing, according to various messages posted across social media by supporters and independent reports from NGOs, four young women – Li Yuanjing (李元婧), Zhai Dengrui (翟登瑞), Cao Zhixin (曹芷馨), and Li Siqi (李思琪) – had been released from detention centers by April 19, four months after their initial detention. It is likely they were released on bail (取保候审). Li Yuanjing is being targeted as the leader of the group; Cao recently terminated the agreement with her lawyer on March 29. Two other young women, Yang Liu (杨柳) and Guo Yi (郭艺, aka Edith), were reportedly released on bail in January and late February, respectively.
Release on bail (取保候审) is a non-custodial measure in China. The measure has a one-year investigation period, during which the suspect must comply with certain requirements, including responding to summons in a timely manner and not leaving their residential city or county without permission. There can also be restrictions on meeting or communicating with certain people or participating in certain activities. The measure does not exempt suspects from criminal penalties; however, the procuratorate may opt to not file an indictment when the term expires.