Australian writer tried for spying
Australian citizen Yang Hengjun (杨恒均), also reported as Yang Jun (杨军) in Chinese official media, was tried on May 27 for the crime of espionage, two years after his detention began.
The trial, which took place at Beijing Number Two Intermediate People's Court, was closed, and the Australian ambassador was turned away. In his brief statement to press waiting outside the court, Ambassador Fletcher said that he was told that he could not attend the trial due to COVID-19 restrictions and because the case involves state secrets.
Yang's detention caught many by surprise. He is seen by many, in and out of China, as a moderate reformer who advocates for making small changes to improve governance and benefit regular people. Soft spoken and with a mild online presence, Yang's unique career background attracted much attention when he emerged as an advocate for democracy in China. Yang was a former China state security officer and diplomat. After leaving China, he studied in the United States and Australia, becoming a citizen of the latter. He wrote semi-autobiographical spy fiction.
Despite writing about serious subjects, Yang did not seem to take himself too seriously, often presenting himself as merely "a street vendor of democracy" on social media. He has been critical of so-called exposés on mainland politicians published in Hong Kong, dismissing such accounts as sensational political gossip. Yang is said to be well-connected with friends across several spheres of Chinese society.
Yang was first believed to have been placed under residential surveillance in a designated location (RSDL) in January 2019. It was not until a press briefing in late August when the Ministry of Foreign Affairs first admitted that Yang had been formerly arrested for activities that endangered state security. His indictment for espionage came more than a year later, in October 2020. Through family and his lawyer, Yang denied the accusations and claimed he was tortured while under RSDL.
In a political dilemma similar to that of the "Two Michaels" from Canada, Australia has also been engaged in diplomatic confrontations with China over many issues in recent years, ranging from trade disputes to the pandemic. Both have accused the other of spying.
The sentence was not immediately announced after the trial. Courts in China have a very high conviction rate, and Yang is expected to be found guilty. The crime for espionage could carry a fixed term of more than 10 years' imprisonment or even life in serious circumstances. Many observers worry that Yang faces a harsh outcome.
Yang's wife Yuan Ruijuan has been under an exit ban since Yang was taken into custody despite having no charges filed against her. Exit bans are increasingly being used as an intimidation tactic against dissidents and their families.
---
Tibetan activist received a sentence reduction
Tsultrim Gyatso (aka Tseltem Gyatso, 次成加措 or 次成高恰) received a six-month sentence reduction in April 2021.
Tsultrim, a monk who asked for the return of Dalai Lama, was convicted of splittism in 2009 and sentenced to life by the Gannan Tibetan Minority Autonomous Prefecture Intermediate Court. The 2020 sentence reduction marks the first act of clemency granted to him since his sentence was commuted to 19 years with seven years of deprivation of political rights in 2014.
In the decision released by the Gansu Tianshui Intermediate Court, the court accepted the petition from the Tianshui Prison and determined that Tsultrim had demonstrated remorse and repented his crime since his last commutation. Tsultrim received several commendations for good behavior.
Even though it seems that Tsultrim complied with authorities and adequately demonstrated that he had reformed, he was only granted a short reduction. This is likely due to the restrictions on clemency enacted by the 2012 SPC regulations on organized crime, endangering state security, and serious corruption.
A sentence reduction is a rare instance of clemency for a person convicted of a crime of endangering state security. It is particularly rare for such a reduction to be granted to an ethnic minority convicted of splittism or inciting splittism.
---
Weibo influencer sentenced to prison for defaming heroes and martyrs
Chou Ziming (仇子明), an influencer on Weibo, was sentenced to eight months in prison on May 31 by the Nanjing Jianye District Court. Chou was convicted of defaming the reputations of heroes and martyrs, a new crime recently added to the Criminal Law 11th Amendment.
On February 19, the People's Liberation Army Daily disclosed information about a border confrontation between China and India that occurred in December 2020 in which four Chinese soldiers died and a regiment officer was seriously injured. The incident quickly ignited strong sentiments in China as netizens praised the heroism of Chinese soldiers and attacked India on social media. Many comments featured blatantly racist content.
Chou, however, expressed skepticism about the accuracy of the reports in his Weibo posts on February 20. Specifically, he casted doubts on the number of casualties. Given his substantial following, his posts soon attracted attention from several propaganda outlets, such as the Youth League.
The Nanjing Public Security Department swiftly moved in and announced Chou had been detained on February 20 for posting expressions that violated the law. On March 1, the same day as the new amendment became effective, the Nanjing Jianye District procuratorate formerly arrested Chou for the crime of defaming the reputations of heroes and martyrs.
Chou is no stranger to controversy. In 2010, while a reporter at The Economic Observer, Chou gained fame after exposing inside trading of several interconnected public companies. Zhejiang Lishui police briefly put him on a wanted list but quickly withdrew the designation after media pressure. Since becoming an independent influencer in 2015, he has used his Weibo account to recommend stocks and soccer lotteries to his followers.
Chou's case elicited the ire of mainstream Chinese media, with official state outlets seemingly using the case as a warning sign against further contradictions of official party narratives. Xinwen Lianbo, the most watched evening news program in China, aired a segment on Chou immediately on March 1, including footage of his confession at the detention center recorded on February 26. The show blasted Chou as a savvy internet opinion manipulator who would do anything to attract views to his posts.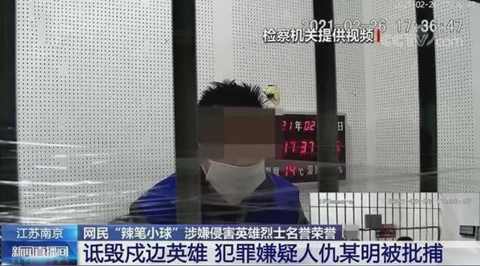 Although Chou's supposed criminal activities took place before the law went into effect, he nonetheless might become the first person to be convicted of this crime.