SAN FRANCISCO (MARCH 2, 2023) — Hong Kong publisher Yao Wentian (姚文田) was released from Dongguan Prison in Guangdong province on February 26, 2023. With the exception of an eight-month sentence reduction for good behavior that was granted by the Dongguan Intermediate People's Court in April 2019, Yao served his entire sentence in Dongguan Prison. News of this reduction was not reported in the media at the time. Dui Hua learned of the sentence reduction decision from an interlocutor and thereafter informed the family. He returned to Hong Kong on February 27, 2023.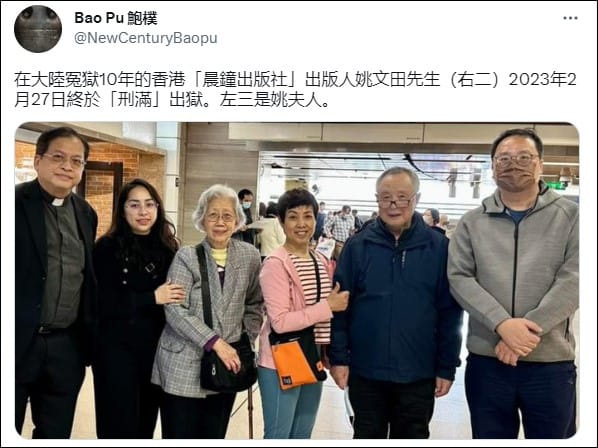 Dui Hua advocated strongly for Yao Wentian, putting his name on 30 prisoner lists and receiving nine responses. In recent years, Dui Hua pressed the authorities to grant him medical parole, but despite multiple serious illnesses, the authorities refused to do so. Yao's refusal to "bend the knee" was respected by prison officials, according to a reliable source in Guangdong province.
During his time in prison, he was placed in the medical ward of the prison, exempted from physical labor, and allowed monthly visits from his wife.
Yao Wentian's independent publishing house published books on "sensitive" subjects, often on politics and political figures in the mainland. Before his arrest, Yao was preparing to publish an unauthorized biography of Xi Jinping by Yu Jie. While his publishing books like the one by Yu Jie was almost certainly the reason for his imprisonment, he was detained and charged for "smuggling common goods." Yao had brought construction materials into China to assist a friend who was refurbishing his apartment. He was accused of failing to declare the value of the goods at customs.
Yao was detained by the Luohu Customs in late October 2013 and formally arrested in January 2014. He was convicted by the Shenzhen Intermediate People's Court on April 30, 2014 and sentenced to ten years of imprisonment with a fine of 250 thousand yuan. The Guangdong High People's Court rejected Yao's appeal and upheld the judgment on July 18 of the same year. Yao was 73-years old when he was admitted into prison.
In the aftermath of Yao's detention, several other Hong Kong publishers were detained, including Swedish citizen Gui Minhai (桂敏海), currently serving a 10-year sentence for endangering state security in a prison in eastern China. Gui was also accused of publishing sensitive material on Xi Jinping.
Yao Wentian was a special case for Dui Hua executive director John Kamm. Yao's son Yao Yongzhan (姚勇战) was a student leader living in Shanghai during the 1989 protests. Kamm intervened on his behalf at a banquet hosted by Zhou Nan (周南), director of the New China News Agency and China's most senior official in Hong Kong, on May 9, 1990. It was Kamm's first intervention. Yao was released and allowed to return to Hong Kong after Kamm testified to Congress on May 16, 1990. He is now a citizen of the United States.