EVENTS
Joe Biden's Policy on Human Rights in China
With the 2020 presidential election in the past, focus is turning to the future of US-China relations. While some issues have yet to be resolved—President Trump has yet to concede, and control of the Senate will be determined in January by Georgia's runoff elections—other implications for the next four years are emerging, including in the area of human rights.
China was a frequent topic on the campaign trail both for the presidential and congressional candidates, and Biden and Trump repeatedly sought to frame themselves as being tougher on China than their opponent. Dui Hua also noted the prevalence of China-centric messaging in contested Senate races. China did not, however, play a definitive role in the final election results due to widespread bipartisan support in Congress and among the general American public for policies that take a hardline approach to China's government. Moreover, in a recent Fox poll, only one percent of Americans ranked foreign policy as the most important issue in the election. The same poll revealed that nearly half of Americans favor tougher action on China, while 38 percent believe that the current Trump policy towards the country is about right.
Where the two political parties do differ is in their approach to China. President Trump relied on unilateral action that often eschewed the advice of his advisers. Biden has stressed building a "united front": a multilateral approach that engages long-held US allies to coordinate a response to confront what Biden called, in a recent Foreign Affairs article, China's "abusive behaviors and human rights violations."
In line with Biden's less-isolationist approach, it is likely that he will have the United States rejoin the United Nations Human Rights Council (HRC) at the earliest opportunity, likely in October 2021. The United States announced its withdrawal from the HRC in June 2018. Nikki Haley, then-US ambassador to the UN, cited "chronic bias against Israel," echoing the Bush-Cheney administration's rationale for not seeking a seat on the HRC. The United States joined in 2009 under the Obama-Biden administration. China is currently a member of the HRC following its reelection this past October. While it had been elected to the HRC in 2006, 2009, 2013, and 2016, China only garnered 139 votes compared to 180 votes in 2016. It had the lowest winning vote in its group. After rejoining the council, the United States would likely seek to assume a leadership role in the growing body of "like-minded countries" that are critical of human rights in China.
During the Trump administration's tenure, the United States withdrew from approximately 100 dialogues with China on a wide range of issues. The incoming Biden administration will likely seek to resume at least some of these. It will not, however, move to resume the human rights dialogue any time soon. The reason is that the United States suspended that dialogue in 2016, the last year of the Obama-Biden administration, because then-Assistant Secretary for Democracy, Human Rights, and Labor and now-Congressman Tom Malinowski deemed the exchange a "waste of time."
Another "tough on China" action that the Biden administration could adopt—depending on whether and how relations between the countries continue to deteriorate—would be to announce support for a boycott of the 2022 Olympic Games in Beijing, a tactic employed by the Carter administration in 1980 when it boycotted the Olympic Games in Moscow. Yet another "get tough" action might be raising the current Travel Advisory for China and Hong Kong from Level Three ("Reconsider Travel") to Level Four ("Do Not Travel"). Such a move would impact business travel as corporate compliance officers would order travel to cease out of fear of legal consequences.
Laws and resolutions introduced in the previous Congress will likely resurface. The 116th Congress introduced more than 300 bills related to China in 2019 and 2020, according to the Center for Strategic and International Studies. One piece of legislation that is likely to resurface is a resolution introduced on October 27, 2020 to designate the Chinese Communist Party's treatment of the Uyghurs in the Xinjiang Uyghur Autonomous Region (XUAR) as genocide. The bipartisan effort was introduced by Senators Robert Menendez (D-New Jersey), who is Ranking Member of the Senate Foreign Relations Committee, and John Cornyn (R-Texas). The introduction of this resolution followed similar legislation by Canada's parliament on October 21, 2021. The House of Commons Subcommittee on International Human Rights of the Standing Committee on Foreign Affairs and International Development designated China's actions in the XUAR as genocide.
A Biden administration is likely to continue, and even intensify, the use of the Global Magnitsky Act to sanction officials and entities believed to be culpable for human rights violations. The Trump presidency has made ample use of the Global Magnitsky Act, which was enacted under the Obama-Biden administration, and Biden signaled his support to use sanctions during his campaign, notably against the leadership of Belarus. It is also likely that Tibet will serve as a means to rebut Chinese leadership. Actions could include Biden meeting with the Dalai Lama, encouraging other world leaders to do the same, and having the Dalai Lama address a joint session Congress.
Given the hardline stance that the next administration is assumed to take, the Congressional-Executive Commission on China (CECC) will continue to be an active voice against violations of human rights and rule of law in China. In the current congress, the CECC has been led by Representative James McGovern (D-Massachusetts). Should the Republican Party retain control of the Senate, Senator Marco Rubio, currently CECC co-chair, will assume the leadership position. Rubio has been an outspoken critic of China and has even been sanctioned by the CCP in retaliation for "behaving badly on Hong Kong-related issues." The CECC under his leadership would be expected to push for even tougher policies on China, including a bipartisan effort to nominate Hong Kong democracy activists for the 2021 Nobel Peace Prize.
A final dimension of post-election US-China relations is the possibility of some form of a goodwill gesture related to human rights. While neither the United States nor China anticipates a reset of relations, China has a history of making such gestures when the United States switches leadership. In April 2017, four months into the Trump presidency, US citizen Sandy Phan-Gillis was deported from China after being detained for two years and convicted of espionage. During her detainment, the UN Working Group on Arbitrary Detention determined that her detention violated international law. Phan-Gillis' return to the United States came three weeks after President Xi's visit to the United States.
Introducing the International Symposium on Girls in Conflict with the Law
The International Symposium on Girls in Conflict with the Law formally launched with two introductory webinars on October 27 and November 10. This innovative expert exchange, which was three years in the making, will continue until March 2021. In this series of webinars, leading minds from 10 countries will discuss and explore the unique challenges and vulnerabilities faced by justice-involved girls around the world.
The Symposium is organized and hosted by Dui Hua and its partners: Patricia Lee, Managing Attorney of the Juvenile Unit of the San Francisco Public Defender's Office; London-based Penal Reform International; the Centre for Criminology at the University of Hong Kong; and the Centre for Comparative and Public Law at the University of Hong Kong.
From November to March, the Symposium will explore topics including pathways into and out of offending for girls, international perspectives, alternatives to incarceration, and sex trafficking. Panels will also look at the situation of girls in conflict with the law in Africa, the Middle East, Hong Kong and Guangzhou, and Indigenous communities in Canada. Additional topics will be announced shortly.
The Symposium launched with two introductory events. The first event was scheduled for participants from North America, Europe, Africa, and the Middle East. John Kamm spoke about Dui Hua's history of expert exchanges and the need to pay greater attention to the crisis of girls in conflict with the law. Taghreed Jaber, Penal Reform International's regional director for the Middle East and North Africa (MENA) gave a summary of the situation of girls in conflict with the law in the MENA region. Patricia Lee presented on the impending closure of San Francisco's juvenile hall.
The second introductory event was scheduled for audiences in Asia. Kamm and Lee updated their presentations and were joined by Anna Wu, honorary fellow and professor at the University of Hong Kong. Wu discussed how the relationship between juveniles and law enforcement in Hong Kong has changed in recent years, including during the 2019 protests.
Here are select remarks from each presenter:
"We're used to hearing about various crises. We have the refugee crisis, the climate crisis, crises around the world in different hotspots, but we almost never hear about this crisis, which is hiding in plain sight: the crisis of girls in conflict with the law. And that's what we're going to be dealing with."

John Kamm
"In almost all MENA region countries, we still need to work further on empowering women working within the criminal justice system, including more female police officers, female judges, prosecutors, and at the same time, [we still need to] make the system more sensitive for women and children so they can seek justice."

Taghreed Jaber
"It is important that we design programs which are fluid, transformative, and gender-sensitive. We do have to factor in these issues. I think we need to incorporate into the program dialogues on notions of justice and injustice, and on disparities and differences, and we need to be sensitive to the courses of conflicts. We really have to dive deep into these issues to try to restore order and to restore human relations."

Anna Wu
"Our charge is looking at creating a smaller, home-like, nurturing house of detention for youth that need to be detained, but only those youth that need to be detained, and then reinvesting that money back into the communities, the schools, and the families, so that hopefully we reduce the impact of being in the juvenile justice system."

Patricia Lee
Information about the International Symposium on Girls in Conflict with the Law can be found here.
Information about previous Dui Hua expert exchanges can be found here.
---
PRISONER UPDATES
Defined in Article 105(1) of the 1997 Criminal Law, the crime of subversion of state power is considered synonymous with political suppression by human rights activists and many governments. While it has gained notoriety for jailing human rights lawyers and activists in a series of high-profile cases in recent years, it has been extensively invoked against dissidents who bring like-minded individuals together in a political party or organization to challenge the monopolistic rule of the CCP.
A subversion case circulated on Chinese social media in November 2020 unveiled a political organization known as the China Democratic Republican Party (中国民主共和党). Its leader surnamed Zhang was allegedly drawn to western politics and electoral systems after failing to get a job promotion and became indebted following his unsuccessful business ventures. Zhang founded the party while traveling overseas in April 2018 and hosted an inauguration ceremony in a hotel room where he declared himself president in his newly created Democratic Federal Republic of China. Photos taken at the ceremony were disseminated to over 10 WeChat chatgroups.
Upon returning to Zhengzhou, Henan, Zhang rented an office to administer his party, which ended up recruiting only two additional members. According to Chinese media sources, Zhang was also contacted by an unspecified foreign agent who vowed to fund his political party in exchange for his service to collect "redhead (internal) documents." In August 2020, he was sentenced to 13 years in prison for subversion. Because Zhang also sent the so-called "redhead documents," he was additionally convicted of espionage.
---
PUBLICATIONS ROUND UP
Featured: Human Rights Journal, October 28, 2020: US Federal Government Embraces Capital Punishment Leading Up to UN Review
This summer the United States federal government aggressively resumed federal executions, ending an ad hoc federal moratorium that had been in place since 2003. So far this year, the federal government has executed seven people, and three more federal executions are currently scheduled for 2020. The execution of Lisa Montgomery, scheduled for December 8, will mark the first federal execution of a woman since 1953. The number of US federal executions this year already exceeds the total number of federal executions that took place in the rest of the last half century combined. Even as both individual US states and nations around the world are abandoning capital punishment, the US federal government is instead choosing to embrace it. As the United States prepares for a review of its human rights record at the UN in November, the future of the federal death penalty is on the agenda.
Read more here.
---
JOHN KAMM REMEMBERS
John Kamm Remembers is a feature that explores Kamm's human rights advocacy prior to and since Dui Hua's establishment in 1999.
North China Earthquake: July 1976, Part I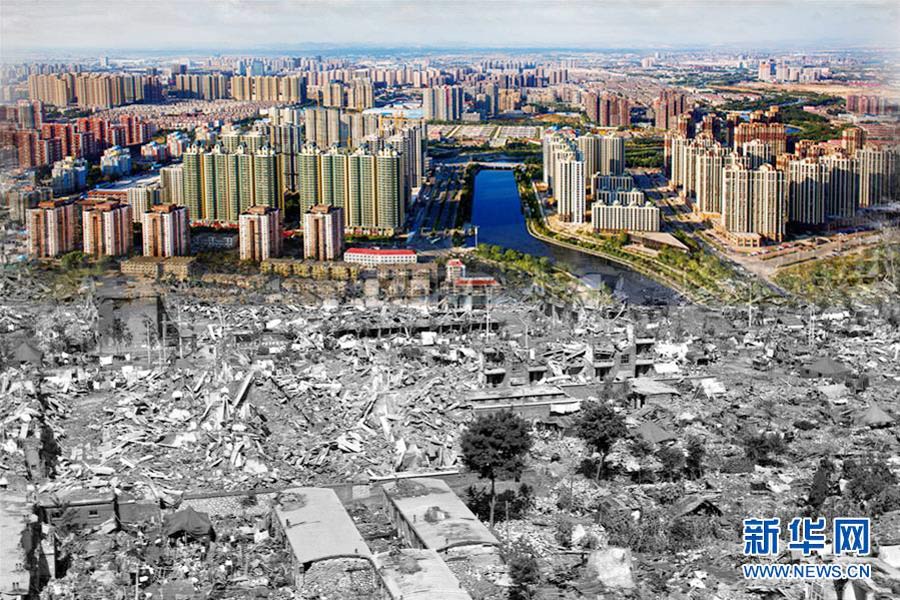 Amulet
In late July 1976, I found myself strolling the streets of Kyoto with my wife Irene and her sister Pat. It was a warm day, and we had taken the train from Tokyo to Kyoto and headed to the Heian Shrine. The seat of the imperial court of Japan from 794 to 1869, Kyoto was modeled on the ancient Chinese capital of Chang'an and was laid out in accordance with the principles of Feng Shui, the traditional practice of Chinese geomancy. Kyoto has long been considered the cultural capital of Japan, and is home to numerous temples, shrines, and palaces.
The courtyard in front of the shrine was lined with stalls selling amulets. We stopped at a stall displaying hundreds of amulets, colorful pouches meant to ward off all manner of evil spirits and natural disasters. One amulet in particular caught my eye. Dark blue with a hint of white. After settling on a price, I asked Pat to ask the trader what the amulet was meant for. The trader replied that it was meant to protect against earthquakes.
This trip to Kyoto had been a hasty adjustment of plans. Irene and I were meant to be in Hong Kong with my parents, who were traveling across the world for a belated celebration of our nuptials. My parents had been unable to attend our wedding the previous year, when Irene and I had said our vows at the Causeway Bay Marriage Registry in Hong Kong, followed by a traditional Chinese wedding banquet organized by Irene's family.
Shortly before my parents were to arrive in Hong Kong, however, fate intervened. I was asked by Ambassador Christopher Phillips, president of the National Council for US-China Trade, to join him on a week-long visit to Beijing in late July 1976. At the time, I was the Hong Kong representative of the National Council for US-China Trade, one of three "people-to-people" organizations set up in the wake of Richard Nixon's February 1972 trip to China.
I agreed to join Ambassador Phillips in Beijing, and Irene and I went about changing the arrangements for my parents' visit. My parents would meet us in Tokyo, where Irene's sister Pat and her husband Kenji lived. After a few days in Japan, I would fly to Beijing and my parents would travel to Hong Kong to meet Irene's family and celebrate our marriage.
First Day in Beijing
On Wednesday, July 21, 1976, Ambassador Phillips joined me at Tokyo's Haneda Airport, and together we flew to Beijing on the Japan Airlines flight that departed at 9:00 AM. We were met on our arrival at 12:35 PM by American officials from the Liaison Office and Mr. Guo Simian, head of the American and Oceanian Division of the Liaison Department of our host, the China Council for the Promotion of International Trade (CCPIT). (I learned later that Guo was party secretary of the Liaison Department. He was removed after the downfall of the "Gang of Four.")
We were driven to the Peking Hotel, one of two locations for visiting dignitaries, the other being the Diaoyutai Guest House. After checking in, we took the elevator to the 14th floor and went to our rooms to unpack and prepare ourselves for the welcoming banquet.
Around 5:00 PM, Ambassador Phillips came knocking on my door. He told me that he had just drunk a tall glass of water from the tap, thus violating the number one rule against drinking unboiled water in a Third World country. I admonished him not to do this again, but it was too late. He would pay a heavy price.
The welcoming banquet was hosted by CCPIT Chairman Wang Yaoting at one of Beijing's Peking duck restaurants. He was joined by Vice Chairman Li Chuan. Over helpings of Peking duck, washed down by shots of Mao Tai—the fiery sorghum-based and high proof liquor—and chased by beer, it dawned on me why Ambassador Phillips had insisted that I join him in Beijing. He was an old-school diplomat, a former deputy ambassador on the United Nations Security Council and Republican state senator in Massachusetts, but he couldn't drink. By contrast, I was quite familiar with alcoholic beverages, my father having been a whiskey salesman in New Jersey in the 1950s and 1960s.
My capacity was put to the test. I matched Wang Yaoting glass for glass. Wang was one of China's most accomplished Mao Tai drinkers. Every time we finished a shot, Li Chuan placed a match on the table. A bottle of Mao Tai contains 33 small glasses, each about the size of a shot glass. By the end of the banquet, there were 25 matches on the tablecloth. Such was the start of our visit.
Tensions
China's domestic political situation and the state of US-China relations, including the trade relationship, were fraught with tensions leading up to my July 1976 visit. After his 1972 trip to China, Nixon and his National Security Advisor Henry Kissinger wanted to have diplomatic relations with both the People's Republic of China (PRC), whose capital was in Beijing, and the Republic of China, whose capital was in Taipei, Taiwan. Beijing would have none of it, so the United States maintained its embassy in Taipei and the PRC and the United States opened liaison offices in their respective capitals.
In 1976, after Premier Zhou Enlai's death in January—I attended the funeral on my first visit to Beijing—a large demonstration that honored him and criticized leftist leaders took place on April 5 in Tiananmen Square. The protest was brutally put down. Vice-Premier Deng Xiaoping was blamed for the protest, removed from his government positions, and placed under house arrest. Radical leftists were now firmly in control of the Communist Party and the government it controlled.
Beijing was angered by steps the United States took in 1976 to show support for the Republic of China on Taiwan, with whom the United States maintained diplomatic relations, much to China's chagrin. They protested Taiwan's establishment of new consulates in the United States, Vice President Nelson Rockefeller's attendance at Chiang Kai-shek's funeral in Taipei, and the setting up of the US-Taiwan Economic Council, several members of which were also members of the National Council for US-China Trade.
Two-way trade between the United States and China dropped sharply in both 1975 and 1976. Radical leftists criticized Deng's policy of purchasing Western technology, including complete plants, and ended a policy that saw Western brand names sewn into Chinese garments. Purchases of agricultural products dropped to zero in 1976. Beijing was especially incensed by an American company's drilling for oil in the South China Sea.
The Meetings Begin
On July 22, a day after arriving, Ambassador Phillips and I began our visit in earnest. The next two days called for meetings with our host, the CCPIT, the Ministry of Foreign Affairs, the Bank of China, and most of China's 12 state-owned foreign trade corporations. The plan was for all meetings to wrap up by July 26, after which Ambassador Phillips would leave for Washington on July 27 and I would travel to Tianjin on July 28 to attend an export fair. The weekend (July 24-25) would be given over to trips to tourist sites—the Great Wall, the Summer Palace, the Temple of Heaven.
Following a slew of expected meetings, our second day in Beijing was capped off by a reception at the American Liaison Office, the body that represented American interests in the absence of an embassy. Prior to the reception, Ambassador Tom Gates welcomed Ambassador Phillips to his office. He spoke of a recent meeting with Zhang Chunqiao, considered the leftists' principal theoretician. It was an unhappy meeting, with Zhang issuing crude threats of what China would do if the United States did not sever all ties with Taiwan. "There will be big trouble," Ambassador Gates remarked, "if this guy ever takes control of China's government."
Two meetings on July 23 stand out: one with the China National Chemicals Import and Export Corporation (Sinochem) and one with the Bank of China. Both were unpleasant, but unpleasant in different and telling ways.
We met with senior Sinochem managers in their office. Once I knew I would be traveling to Beijing with Ambassador Phillips, colleagues in the Washington office managed to wrangle an invitation for the China Chemicals and Pharmaceuticals Special Fair to be held in Tianjin from July 27 to August 19, 1976. I had already attended three mini-fairs thus far in 1976.
I thanked Sinochem's deputy managing director, but he ignored me, thinking perhaps that I was too junior to warrant an acknowledgement. He only said that the corporation expects a full report from the National Council on the market for chemicals in the United States at the event, a market about which I knew very little. Through Guo Simian, I was given an invitation to the fair. The CCPIT helped me buy a train ticket departing Beijing for Tangshan/Tianjin at 7:32 AM Beijing time on July 28.
I asked this official what he could tell the National Council about Sinochem's Petroleum Department. He became hostile. "Why do you want to know?" he asked, suggesting that this was secret information. Ambassador Phillips stepped in and said that the council had recently set up a petroleum committee and its members wanted to establish contact with their counterparts in China. The official gave a curt answer to the effect that they should write a letter to Sinochem's head office requesting that the letter be transferred to the Petroleum Department.
After blasting American companies for exploring for oil in China's "sovereign territory," the deputy managing director showed us the door.
Our meeting with the Bank of China was the last official meeting of the trip. It took place in the bank's headquarters just off Tiananmen Square. We were greeted by an urbane senior manager in a starched Mao suit. After an exchange of pleasantries, the gentleman adopted a stern demeanor. He had heard about the establishment of the "so-called" US-Taiwan Economic Council and had noticed that several American banks that were members of the National Council for US-China Trade had joined this organization. "This is unacceptable," he intoned. "There will be consequences for them. Your own Council might pay a price as well."
Ambassador Phillips took these threats calmly, with aplomb, making the point that the National Council could not control the activities of its members.
A Visit to the Subway and the Hospital
After the meeting with the Bank of China, Mr. Guo took us to a nearby Beijing subway station. The first subway lines were constructed in 1969, but the system was frequently closed for technical and political reasons. For several years it was operated by the People's Liberation Army, but in 1976 it was returned to civilian control and foreign dignitaries were sometimes invited to have a look. The subway had both civilian and military uses. In the event of a nuclear attack, civilians would shelter there.
We took an escalator down to the platform. Few passengers were waiting. A train pulled up and we boarded. Sitting in our car were several passengers, including a young mother whose child exploded in tears when we said hello. There was also an elderly peasant from the countryside, looking a bit worse for the wear. Mr. Guo approached him and told him to push off. The peasant ignored him, and given the tenor of the times, Mr. Guo did not press the point. The three of us alighted at the next stop.
When we made it to the street, Ambassador Phillips told Guo and me that he wasn't feeling well. We went to a hospital and Phillips was given a battery of tests. Exhausted, we returned to the Peking Hotel. At midnight, we were roused from our sleep by calls from the lobby. Ambassador Phillips had been diagnosed with dysentery and a rare salmonella infection resistant to antibiotics.
With two CCPIT officials, we headed for the First Infectious Diseases Hospital where Phillips was given a private room. Dr. Zhang Dongbo, one of China's top infectious diseases specialists, arrived and declared he would be in charge of the ambassador's treatment. He would spend sleepless nights looking after Phillips.
Over the next three days I visited Ambassador Phillips on several occasions, sometimes accompanied by a member of the Liaison Office, sometimes accompanied by Guo Simian. Phillips seemed comfortable and in good spirits.
Wandering About Beijing
That left plenty of time for me to walk around Beijing. I had visited Beijing twice earlier in 1976, and I had identified several places of interest including bookstores and the large Beijing Department Store on Wangfujing. The department store offered made-in-China products with one exception: Swiss watches, which carried a hefty price tag. The Xinhua Bookstore had an impressive display of "Little Red Books" – quotations of Chairman Mao Zedong – laid out beneath the chairman's portrait. Further down the street were a couple of second-hand bookstores, where I spent happy hours.
In the evening I would go to dinner with American businesspeople who happened to be in Beijing. We would meet in the lobby of the hotel. I was armed with tips of restaurants. One evening we ate curries and breads at the Pakistani Restaurant on the top floor of the Hua Qiao Hotel. The next evening we went to the Minzu Hotel's restaurant, famous for its spicy dandan noodles.
Finally, on the evening of July 27, I joined two New York garments buyers for a meal at the Moscow Restaurant on the west side of the Beijing Exhibition Hall, a massive Stalinist structure with halls and theaters and a great tower that could have been airlifted out of Moscow.
The restaurant was mostly empty, so we settled down at a small table and ordered Russian dishes from the menu. The restaurant did not have a wine list, but they sported a cellar full of Russian vodka. The vodka had been shipped to China under the 1956 barter trade agreement between the Soviet Union and China. It was very cheap, and very good. We consumed a bottle and then some. We happily returned to the Peking Hotel for what I hoped would be a good night's sleep.
Read Part II here.