EVENTS
Kamm Speaks on US-China Developments to Bay Area Audience
Reflecting local interest, Dui Hua Executive Director John Kamm addressed members of the San Francisco University Club on the topic of "China, Russia, Ukraine: What's Going On (…and should we worry)" on June 16, 2022.
Kamm began his remarks by quoting US Ambassador to China Nicholas Burns who, the day before Kamm's remarks, stated that US-China relations were at their lowest point in 50 years. Kamm, who first traveled to China in 1972, agreed with the ambassador's assessment, pointing to a long list of grievances.
"Pro-Russian Neutrality"
While China claims to be neutral in the conflict between Russia and Ukraine, Chinese actions and words tell a different story. As one European diplomat put it, China's position is one of "pro-Russian neutrality." Beijing has refused to condemn Russia's invasion, which it calls, following Moscow's depiction, a "special military operation." China has tried to block United Nations action, voting against the overwhelming majority of countries who supported stripping Russia of its seat in the United Nations Human Rights Council, and abstaining on votes condemning Russia in the United Nations General Assembly.
It is widely believed in Washington that Putin gave Xi a "head's up" of imminent invasion when they met in Beijing prior to the opening of the Beijing Winter Olympics in February.
China has now emerged as the largest buyer of Russian oil and a major buyer of food and natural resources. It conducts joint naval drills with Russia, sailing their vessels close to Japan.
On June 15, 2022, President Xi Jinping and President Vladimir Putin held a telephone call. They spoke glowingly of their "no limits strategic partnership." According to the Russian read-out of the call, "The president of China noted the legitimacy of Russia's actions to protect fundamental national interests in the face of challenges to its security caused by external forces," reinforcing China's claims that the United States and NATO have provoked the conflict.
Issues Dividing China and the United States
China's apparent support for Russia's aggression has added to a long and growing list of issues dividing China and the United States. These include:
Aggressive actions by Chinese forces in the East China and South China Seas. Beijing has begun referring to the Taiwan Strait as Chinese territory.
China's construction of a naval base in Cambodia, and dangerous maneuvering around Australian and Canadian patrol aircraft.
Chinese efforts to woo Pacific nations away from the United States, Australia, and New Zealand.
A litany of trade and investment complaints including intellectual property theft and economic espionage by Chinese agents in the United States.
Censorship of the US embassy's website in China.
American accusations, amplified by the WHO, that the Covid pandemic might have come from a Chinese laboratory in Wuhan.
Crackdown on freedoms in Hong Kong by the imposition of the National Security Law.
Human rights abuses against journalists and religious believers.
"Unlawful detentions" and exit bans on American citizens.
Alleged genocide against Muslim minorities in Xinjiang.
Five days after Kamm's speech, the Uyghur Forced Labor Act, which bans the import of Xinjiang products presumably made with forced labor in the northwestern autonomous region, went into effect.
A Silver Lining
As Kamm told China's Consul General in San Francisco earlier in 2022, these tensions have fueled Congressional anger, media hostility, and record low approval ratings of China in the United States (and elsewhere).
Kamm ended his remarks by opining that Russia's invasion of Ukraine has reduced the chance that China will seek to take over Taiwan by force. Ukraine's fierce resistance and the strength of international reaction, which has seen multiple sanctions placed on Russian banks, products and citizens, have served to dampen China's appetite for military action over Taiwan.
---
PUBLICATIONS ROUND UP
Featured: Human Rights Journal, July 14, 2022: Patriotic Acts as Cause for Non-Prosecution
Chinese prosecutors have the discretion not to indict an accused when the evidence is insufficient or when his/her perceived threat to society is minimal. However, these are not necessarily the most important reasons. Dui Hua's research found that criminal suspects deemed patriotic can also avoid prosecution in mainland China.
Read more here.
See Also: Human Rights Journal, "All People Act Together" Supporters Imprisoned, Part I: Social Media Campaign Draws Ire (July 14, 2022) & Part II: Public Disruption, Limited Reach (July 20, 2022)
"All People Act Together" (APAT), or quanmin gongzhen (全民共振), is a social media campaign launched in early 2018 by Chinese dissidents overseas. The campaign calls on rights defenders to collectively seek redress and make their voices heard by staging street protests across Chinese cities on occasions of special historical, social, or political importance such as International Workers' Day (May 1), the anniversary of the founding of the Chinese Communist Party (July 1), and National Day (October 1).
Read Part I here and Part II here.
See Also: Prisoner Updates 2022 #4: Poet and activist sentenced to six years; Xu and Ding tried in closed trials; Lawyer Chang Weiping tried in closed trial; wife prevented from attending; Outspoken Christian activist received administrative detention in June
See Also: Prisoner Updates 2022 #5: Activist Wang Wei released at the end of July; Sentence for Hong Kong's Captain America reduced upon appeal; Founder of minor Taiwanese political party arrested
---
JOHN KAMM REMEMBERS
John Kamm Remembers is a feature that explores Kamm's human rights advocacy prior to and since Dui Hua's establishment in 1999. Learn about Kamm's first experiences in China in the 1970s with our timeline.
Right Time, Right Place, Right People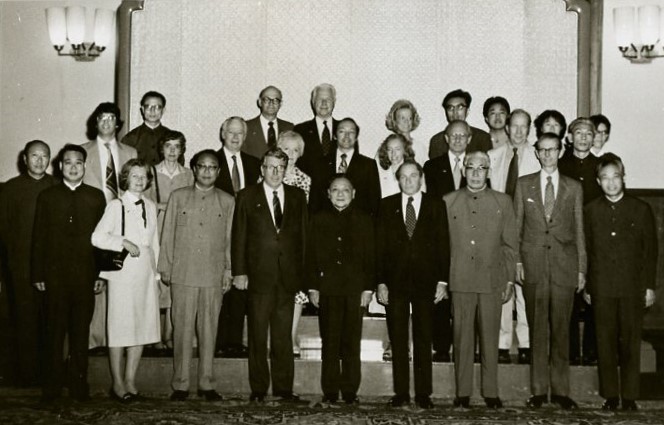 Throughout the 1970s and 1980s, before I began intervening on behalf of political prisoners in the wake of Tiananmen, I was active in the China trade, buying, selling, and investing on the mainland. I was in the right place at the right time, taking advantage of China's opening by launching a number of pioneering initiatives, including establishing some of the first foreign offices in the country, making the first sales to county-level corporations, helping Chinese enterprises register products with the Food and Drug Administration, and placing the first advertisements in Chinese newspapers since the 1950s.
Foreign Offices
On June 5, 1979, I joined a National Council for US-China Trade delegation to Beijing. There I met paramount leader Deng Xiaoping and shook his hand. I was introduced to him as Kang Yuan, a name I adopted upon writing a eulogy for Zhou Enlai, whose funeral I attended in January 1976.
Building on the experience of running the National Council for US-China Trade office at the Guangzhou Trade Fair, I established the first office of a foreign company in Guangzhou in 1979 and the second office of a foreign firm in Shanghai in 1980. These two offices reported to my office in Hong Kong, serving as advance posts for activities throughout the mainland.
The offices were used to plan and carry out technical exchanges to introduce agricultural and industrial chemicals manufactured by the companies we represented and to explore opportunities to buy and sell raw materials and finished products.
My team and I were helping our principal client to find sources of arsenic trioxide, a deadly powder used to manufacture weed killers. We ventured to two remote locations in Guangdong Province, Yunfu County in the western part of the province, and Yangshan County in the northern part. In these places we witnessed arsenic being refined in so-called "dragon kilns," a technology developed in the Tang Dynasty (618-907 AD.)
On the trip to Yunfu, I travelled with Mr. Mulligan, a mining engineer who worked for a large New York bank. Accompanied by county officials, we hiked up a steep mountain until we reached a ridge, where we could peer down at the countryside below, dotted with abandoned mines where arsenic-laden rocks had been mined, tailings leaching out from the mouths of the mine.
We stopped for a cup of tea. The county boss remarked that the tea plants were the only thing that could grow in the arsenic-laden soil. We spit out the tea, but Mulligan asked for a bag of what we called "arsenic tea," which he was given. Turning to me, he said, in a low voice, "I'll bring this home and give it to my mother-in-law!"
Selling Vaccines to Pigeon Farms
One of the companies we represented was a European manufacturer of vaccines for animals, especially poultry whose flocks were frequently ravaged by disease. We ventured to Zhongshan County north of Macau, there to conduct a technical exchange on vaccines for pigeons. Zhongshan is famous for its "Shekki Pigeons," named after Zhongshan County's seat. These birds, roasted in a time-honored way that resulted in succulent meat and crispy skin, fetched high prices in Hong Kong.
On the same trip we introduced a Swiss product to counter swine flu, a perennial problem in South China.
The pigeon exchange was a complete success. County officials, who had their own stash of US dollars, wanted to buy the vaccines from us, but wanted to do so quickly rather than going through the provincial foreign trade corporation.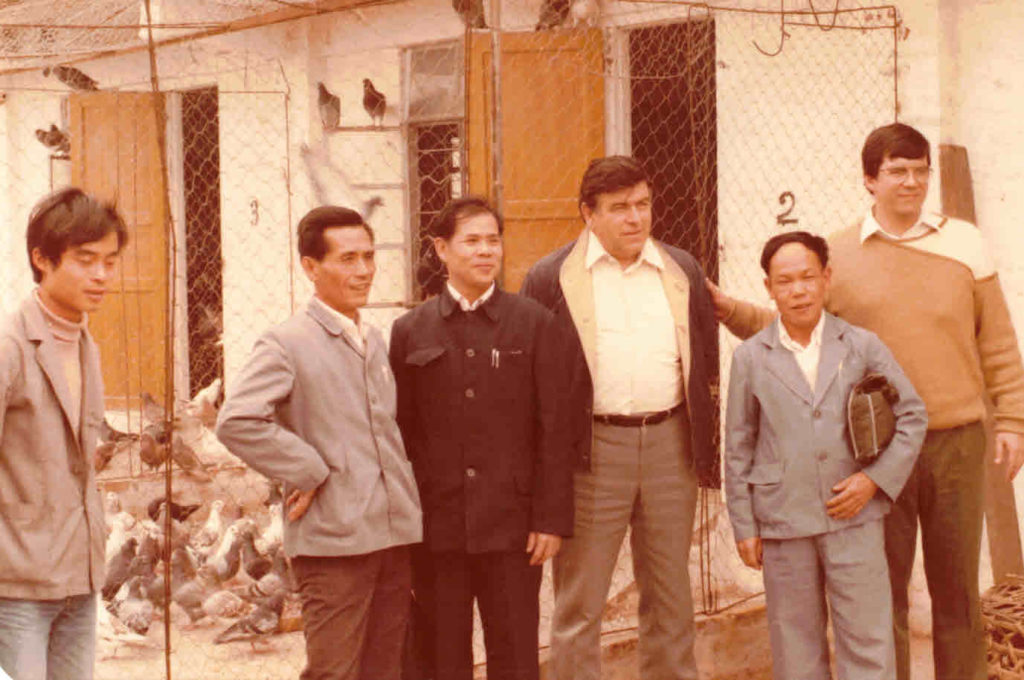 We decided to use their standard Chinese-language contract used to buy things from mainland companies. Things moved quickly. We signed the contract, the county corporation opened the letter of credit for US$ 30,000, and we arranged the shipment in refrigerated containers. This transaction is believed to be the first sale to a county foreign trade company (known as "sub-branches") during the reform and opening period.
Low-Acid Canned Foodstuffs
China manufactures a wide variety of canned foodstuffs, including mushrooms and beans, that can be found in stores in Chinatowns around the United States. In 1977 I was asked, as the National Council's Hong Kong representative, to assist China's National Cereals, Oils, and Foodstuffs Corporation's Hong Kong agent register its low-acid canned goods with the United States Food and Drug Administration.
The paperwork was prepared and submitted. All went smoothly, and dozens of products were registered.
The contacts made in this exercise were to serve me in good stead when, in 1978, I was asked by China's largest firm in Hong Kong, China Resources, to introduce American companies based in the colony who might be interested in investing in the areas bordering Hong Kong and Macau, areas that were slated to become China's first special economic zones. Investing took the form of "compensation trade" and rudimentary value adding, but they paved the way for joint ventures which began to proliferate in 1979.
Advertisements for Foreign Products
In April 1979, immediately before the Spring Guangzhou Fair which was to open on April 15, I was alerted to an opportunity by a friend who worked for Ta Kung Pao (TKP), a leftist newspaper in Hong Kong. The Chinese government had decided to allow foreign companies, on an "experimental basis," to place advertisements in Chinese newspapers. One of the newspapers selected to accept advertisements was the Guangzhou Daily (Guangzhou Ryh Bao).
We settled on a price: US$5,000 for a full page, in color, ad. An advertisement for the products of Diamond Shamrock Corporation was laid out and submitted to TKP. It ran in the Guangzhou paper on April 14, 1979.
The appearance of this advertisement caused an immediate sensation. Vendors would fold the paper so that the advertisement, which ran on the back page, showed up as the front page. The novelty added to robust sales for the newspaper which was well known for boring official reporting.
Operating at the Local Level
There is a popular saying in China used to denote Beijing's limited power to determine what goes on in the provinces and localities: "The mountains are high, the emperor is far away."
My experiences doing business, particularly in Guangdong Province, prepared me for my human rights work. While the outcome of major political cases is determined at the highest level in Beijing, most cases are handled by local government and party officials including prison bureaus and prison wardens, local courts and local procuratorates. Today, most of the information on political prisoners that Dui Hua obtains is provided by local entities, bypassing Beijing.
Visit Dui Hua's new interactive timeline "John Kamm Remembers: Fifty Years in China" to read more stories like this, view photos from this period in history, watch videos about the origins of modern US-China engagement, and learn how the decisions of the past are shaping our future.
Subscribe here to receive Dui Hua publications by email.