EVENTS
Year of the Tiger Opens with a Roar
Dui Hua opened 2022, the Year of the Tiger, with a roar!
In late December 2021, Dui Hua executive director John Kamm received an email from the Chinese consulate in San Francisco. Kamm was invited to visit the consulate in early January 2022 to meet Consul General Wang Donghua and exchange opinions on human rights. The meeting took place on January 5, 2022 and lasted for an hour. Consul General Wang, who holds the rank of ambassador and director general of China's Ministry of Foreign Affairs, was accompanied by three colleagues.
Kamm stressed the importance of China resuming what he called "strategic acts of clemency" to improve its poor image in the United States. He suggested focusing on US citizens including those with relatives in China. A long prisoner list was handed over, and four specific cases were discussed.
Kamm and Wang agreed that relations between the two countries were at their lowest point in decades. Wang noted that many people in China had hoped that the new US administration of Joe Biden would change policies enacted by the previous one in order to improve relations with China, but in fact "relations have continued to deteriorate." The diplomat stressed that poor relations between the two countries undermine the basis of cooperation on human rights.
New Book Spotlights Dui Hua
On January 10, 2022, Oxford University Press published Americans in China: Encounters with the People's Republic by Terry Lautz. In 10 chapters, Lautz profiles 13 Americans who have helped shape US-China relations in the 20th century. One chapter is devoted to Kamm and the work of Dui Hua on political prisoners in China.
Lautz traces Kamm's life from his days as a student activist in New Jersey to his arrival in southern China in 1972. The chapter covers both his business career and his human rights activism that began in 1990 when he was serving as president of the American Chamber of Commerce in Hong Kong. Kamm's interventions on behalf of several prisoners are highlighted, as are his testimonies to Congress.
Webinar in Santa Fe
On January 20, 2022, Kamm was joined by Boston University Professor Joseph Fewsmith in an hour-long webinar hosted by the School for Advanced Studies in Santa Fe, New Mexico. In "China and the United States: A Troubled Relationship," Fewsmith focused on Chinese domestic politics, in particular the 19th party plenum to take place later in 2022, while Kamm focused on US domestic politics including the looming mid-term elections in November 2022.
Using a graph based on Gallup polls going back to 1978, Kamm illustrated the sharp decline in China's popularity among Americans since 2018 and noted that China's favorability rating is now lower than those recorded after the events in Tiananmen Square that took place in June 1989. American media coverage of China is characterized by a steady drumbeat of negative stories, and attitudes in Congress are uniformly negative. An astonishing 350 bills and resolutions with China content were introduced in the first year of the current Congress. One bill in particular is noteworthy: the Uyghur Forced Labor Act establishes the presumption of guilt for companies importing products from the Xinjiang Uyghur Autonomous Region.
Kamm pointed out that approval of President Biden's handling of China among US adults is low, and this limits his ability to take steps to improve relations. This point was reinforced by examining the issue of tariffs on Chinese goods. Even though Treasury Secretary Yellen has commented that the tariffs contribute to high inflation and despite 110 members of Congress favor easing the tariffs, President Biden made clear in his January press conference that the United States is not ready to reduce or eliminate the tariffs imposed by former president Trump.
Kamm repeated the point made with Consul General Wang earlier in the month. To improve US-China relations China should show clemency to American citizens like Mark Swidan, held in a Chinese detention center for more than nine years.
The program concluded with a lively Q&A session during which Fewsmith and Kamm fielded a wide range of questions from the audience of 120 engaged participants. The questions covered the main hotspots: Xinjiang and the question of genocide, Taiwan and the prospect of conflict, the deteriorating situation in Hong Kong, the winter Olympics, and the question of diplomatic boycotts.
---
PUBLICATIONS ROUND UP
Featured: Human Rights Journal, January 25, 2022: Decoding State Security Trials, Part I: ESS Cases in Tibet Rose Sharply in 2022
From 2017-2020, Chinese courts concluded 1,330 trials of endangering state security (ESS), dereliction of military duty, and pre-1997 offenses, according to Dui Hua's analysis of data published annually in China Statistical Yearbooks (中国统计年鉴) by the National Bureau of Statistics. The yearbooks, accessible on the National Bureau of Statistics website, provide information on the number of first-instance criminal trials accepted and concluded by people's courts nationwide.
Read more here.
See Also: Prisoner Updates 2022 #1, January 31, 2022: Silencing young idealists from the left; Guangxi rights lawyers tried, one convicted and sentenced
See Also: Human Rights Journal, January 27, 2022: Americans Lose Confidence in Biden's Ability to Deal with China
Two polls of Americans taken in mid-January 2022 reveal a sharp drop in confidence among registered voters in President Joe Biden's ability to handle China.
Read more here.
See Also: Human Rights Journal, January 12, 2022: Shincheonji Church in China Before & Through the Pandemic
The Chinese government has long been vigilant of burgeoning Christian groups from South Korea. Following its exploration of the case of Cho Young-joo and his Good News Mission, Dui Hua has found ample evidence of a clampdown on the Shincheonji Church of Jesus (新天地教会) by the Chinese government.
Read more here.
---
JOHN KAMM REMEMBERS
John Kamm Remembers is a feature that explores Kamm's human rights advocacy prior to and since Dui Hua's establishment in 1999.
Two Flights to Freedom, Part I
In the early morning hours of July 9, 2015, Chinese police moved against human rights lawyers, legal assistants, and rights activists across China, but mostly those living and working in Beijing. Over the coming days and weeks, an estimated 300 lawyers and activists were detained or had exit bans placed on them. Power was cut off at their residences. Many were stripped of their lawyers' licenses, forcing law firms to close. Several of those detained were subsequently tried and convicted of state security offenses. A few are still in prison, including Wu Gan, an activist known as "Super Vulgar Butcher," who was sentenced to eight years in prison for subversion in December 2017.
International reaction to what became known as the 709 Crackdown was sharply critical. Governments, bar associations, law schools, and experts from United Nations Special Procedures condemned the action, to no avail. In an early indication of China's current policy of ignoring international opinion, Beijing has become defiant and increasingly oblivious to criticism. Even requests for information on the status of political prisoners are now considered assaults on China's judicial sovereignty constituting interference in China's internal affairs.
A Brave Lawyer
Prior to his detention by public security agents for inciting subversion, picking quarrels and provoking trouble, and embezzlement on July 12, 2015, and his subsequent departure from China in March 2016, Guilin-based lawyer and associate professor of law at the Guilin University of Electronic Science and Technology Chen Taihe was a well-known advocate of China adopting the jury trial system. He researched the jury system in the United Kingdom as a visiting professor and summarized his findings in an eloquent and well-argued book entitled The Most Common Right.
It is not known why Chen Taihe was detained. It might have been because of his friendship with leading rights lawyer, Li Heping, who was himself detained on July 10, 2015. Chen had called for his release. It could have been because of his extensive ties to the United States. It might have been because of his advocacy for China adopting the jury trial system. Or it might have been because of a vendetta against him by a Guilin official. China's justice system is anything but transparent.
Chen Taihe's activism brought him to the attention of the domestic security division of the public security bureau, a unit known as guo bao. They invited him "to drink tea" – a euphemism used for police questioning – on multiple occasions.
His successful law practice, which focused on civil and criminal litigations, brought him fame and wealth, enabling him to purchase three apartments in high-class developments. He gave that all away to find freedom for himself and his family in the United States, assisted by retired Judge Shackley Raffetto, the Dui Hua Foundation, and American diplomats in China. He is believed to be the only 709 lawyer to have successfully left China for the West with the permission of the domestic security bureau of the Chinese government.
Time on the Cross
Upon detention, Chen Taihe was placed in the Guilin Number Two Detention Center. He endured physical mistreatment, including being forced to squat for hours in a stress position, and threats from prisoners, one of whom had been sentenced to death. Chen was in a crowded cell with 12 other detainees; he was not given a bowl, spoons, and other necessary utensils to eat food and drink water for nearly three days.
Finally, on July 16, 2015, he was allowed a visit by a lawyer, who was a spy sent by the government. The second lawyer that visited him was Qin Yongpei. He posted Chen's situation and mistreatment online after he interviewed Chen in a prison meeting room. (Lawyer Qin was detained in 2019; he has not been released and is currently under indictment for inciting subversion.) Chen was then moved to another detention center where his treatment slightly improved. A month after his detention, he was moved to a location outside the detention center and then on August 22, 2015, he was allowed to return home and placed under residential surveillance, but even then, he continued to be subjected to interrogation and threats by the police right up to the day he departed China.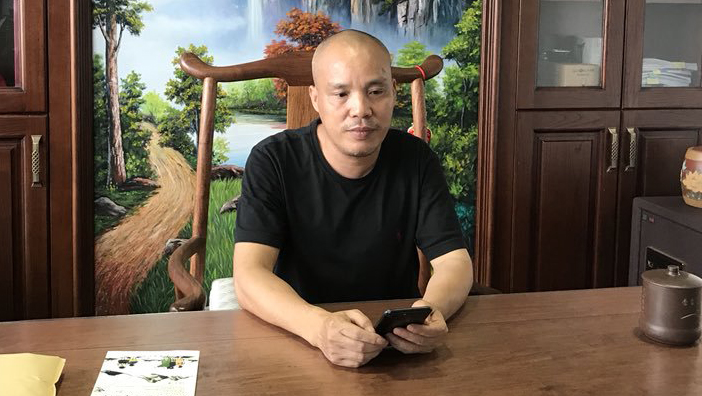 While keeping the police advised of his whereabouts, he was allowed to move around Guilin and even to travel to other cities. The police monitored his communications and his movements. The family's bank accounts were frozen, heaping misfortune on top of misery.
Judge Shackley Raffetto
On July 21, 2015, nine days after Chen Taihe's detention, I received an email from Shackley F. Raffetto, a retired Hawaii state trial judge and US Navy judge who had befriended Chen Taihe following an introduction by a lawyer based at the US Embassy in Beijing. Judge Raffetto invited Chen and three other Chinese lawyers to visit Hawaii in September 2013. While there, the small group of Chinese lawyers observed a jury trial and were able to interview the jurors after the trial concluded. They met with the Chief Justice of the Hawaii Supreme Court as well as law professors and lawyers from firms involved in legal exchanges with lawyers in China.
Judge Raffetto had already lectured and conducted a US style jury trial moot program at two PRC law schools. In April 2014 he travelled to Beijing, at the invitation of the US Embassy, with the intention of providing the jury trial moot at a number of law schools that had requested the program. The first school at which the trial moot program would be presented was Chen Taihe's law school. Chen had advised the Guilin police that he had invited Judge Raffetto to conduct the program at his university.
Upon arrival in Beijing, Judge Raffetto was told that the entire program had been cancelled. No explanation was given. Chen Taihe was ordered not to participate in the program. Judge Raffetto adjusted the program and proceeded to give lectures on the American justice system at law schools around China, arranged by the US government. Police tried to block people from attending his lecture in Beijing. They were admitted by a side door.
In July 2015, Judge Raffetto noticed that Chen Taihe's name was on a list of lawyers and activists detained in the 709 crackdown drawn up by Amnesty International. He contacted the US Embassy in Beijing, the people with whom he had worked on programs, but never received a response. He then reached out to human rights groups, including Dui Hua, to see what could be done for his friend.
Role of China's San Francisco Consulate
In my work on Chinese political prisoners, I have used different channels to submit lists and discuss cases. One of the most important channels has been the Chinese consulate general in San Francisco. I reached out to my point of contact, Consul Wang, and asked for a meeting to discuss Chen Taihe's case. We agreed to meet on Monday, July 27, 2015, at the consulate on Laguna Street.
I submitted a detailed memo on what I knew about the case. I pointed out that Chen was the only law professor to have been detained in the 709 crackdown and pointed out that President Obama was also a law professor. Guangxi Zhuang Autonomous Region, whose capital is Guilin, is the sister state of Montana, home state of US Ambassador Max Baucus. For these reasons, Chen Taihe's case was now a high priority for the US government.
Wang took action. He impressed on his superiors in Beijing the importance of the case. A few weeks later Chen Taihe was moved out of the detention center and eventually placed under residential surveillance. Unfortunately, his ordeal was far from over.
Throughout my work on the case, I stayed in close touch with officers at the United States Department of State and the National Security Council in Washington as well as the US Embassy in Beijing. Washington-based officials were a source of good advice and assistance arranging Chen's departure and providing limited financial support. Chen Taihe was well known to the Department of State prior to his detention in 2015. In both 2011 and 2012, Chen Taihe had participated in legal exchange programs and in 2012 he visited Washington DC at the invitation of the State Department's International Visitor Leadership Program.
Subscribe if you want to receive Dui Hua publications by email.