EVENTS
Dui Hua Makes Submission to China's Universal Periodic Review
UN Human Rights Council in the Palace of Nations in Geneva. Image Credit: ForeignPolicy.
As part of the agreement to establish the Human Rights Council (HRC) in 2006, members of the United Nations are required to have their human rights record reviewed on a periodic basis. This process – known as the Universal Periodic Review (UPR) – takes place in Geneva and is overseen by the council's UPR Division.
China's first UPR took place in 2009 and its second UPR took place in 2013. The country's third UPR will take place in late October or early November 2018.
To manage each UPR, three members of the HRC – known as the troika – are chosen by lots. The three countries responsible for overseeing China's 2018 UPR are Kenya, Saudi Arabia, and Hungary. This is fortunate for China as all three are considered close friends of the country.
China takes the UPR very seriously. Although not required to do so, it files a national report outlining where progress in human rights has been made. It fields a very large delegation made up of government and judicial officials. The delegation is led by the Ministry of Foreign Affairs' Department of International Organizations and Conferences and is supported by the Chinese Mission in Geneva. It includes officials from the Ministry of Public Security, Ministry of Justice, Supreme People's Court, Supreme People's Procuratorate and bodies looking after religious affairs, women's rights, and the disabled, among others.
At each UPR, countries that are members of the United Nations – the body currently has 193 members – are given time (sometimes as little as two minutes) to make statements and recommendations. China, in turn, responds to recommendations made by countries during its UPR, accepting some and rejecting others. It sometimes happens that commitments to accept recommendations are not fulfilled, as in the case of promises to invite the High Commissioner for Human Rights and HRC Special Procedures to visit the country.
Non-governmental organizations can make submissions on the rights records of countries undergoing UPRs. Dui Hua, which has enjoyed Special Consultative Status with the United Nations Economic and Social Council (ECOSOC) since 2005, has made submissions to both the 2009 and 2013 UPRs for China. Dui Hua made its submission to the UPR Division for China's 2018 UPR in late March 2018.
Dui Hua's submission for China's 2018 UPR examines judicial transparency, with a focus on judgments posted on court websites. In 2013, when China's last UPR took place, it was rare for courts to post judgments on websites. Beginning in 2014, judgments in civil and criminal cases have been posted on the Supreme People's Court's China Judgments Onlinewebsite. At the end of 2017, more than 40 million judgments had been posted, up from 26 million at the end of 2016.
Dui Hua Executive Director John Kamm traveled to Beijing in January 2018 and met with senior officials of the Supreme People's Court and Ministry of Foreign Affairs to discuss the foundation's submission. The officials answered his questions and provided information on specific judgments.
Court websites are important tools for research and advocacy. In 2015-2017, Dui Hua found the names of 350 previously unknown individuals who had been convicted of endangering state security (ESS), while in 2017 alone, Dui Hua found approximately 800 previously unknown names of individuals convicted of "using a cult to sabotage implementation of the law," the article of the criminal law used to prosecute groups like Falun Gong and Almighty God. At present 40 percent of all new entries to Dui Hua's Political Prisoner Database are found on court websites.
Once a name is found, Dui Hua puts it on prisoner lists which it submits to the Chinese government either directly or indirectly through countries that have human rights dialogues with China. Dui Hua also uses the information found on court websites to write articles for its publications. Recent articles based on the judgment websites include analysis on prison rules governing clemency and the little understood coercive measure of "educational placement."
In its submission, Dui Hua examines other sources of official information on China's judicial system. The foundation has found information in reports released by provincial bodies that enable one to estimate the number of people imprisoned for participating in the 1989 political protests and the number of people indicted for ESS and cult crimes in 2017.
China's Ministry of Justice stopped releasing statistics on the number of women in prison in 2016, when it gave the number for the first half of 2015 to the Asia Pacific Conference of Correctional Administrators. In its submission, Dui Hua recommends that the ministry resume publishing the number of women incarcerated in prisons under its control.
Dui Hua has received information on sentence reductions for three Uyghurs involved in obscure cases of splittism in Xinjiang. Yusup Ismail was sentenced to 12 years in prison in 2006. An online judgment stated that the Xinjiang High People's Court reviewed the application of his sentence reduction in January 2017, but the outcome has not been disclosed. The response confirmed that he received a three-month sentence reduction and completed his sentence in Tulufan Prison on April 14, 2017.
Sentenced to life in prison in 1999, Abdusalam Amut did not receive any clemency until after he had served 19 years in Xinjiang No.1 Prison. In June 2016, the prison applied for a sentence commutation on his behalf, but the outcome remained unknown until a government response given to Dui Hua confirmed that the Xinjiang High People's Court commuted his sentence to 20 years' imprisonment. He is now scheduled for release on June 27, 2036.
The same response indicated that Memettohti Memetimin received a commutation of his life sentence to 20 years' imprisonment. He was granted his first sentence reduction on September 6, 2016, after being imprisoned for 20 years. In 2003, he was sentenced additionally for theft and illegal production/trafficking in weapons/ammunition/explosives. His life sentence was commuted about two weeks after the Xinjiang High People's Court received the recommendation for a sentence reduction submitted by Xinjiang No.4 Prison on August 25, 2016.
Featured: Uncovering the Obscurity of "Educational Placement" (March 12, 2018)
Dui Hua's research into online judgments has uncovered the first known case of "educational placement" (安置教育, anzhi jiaoyu), a measure imposed on prisoners who are considered "a danger to society" even after they have completed their sentences for terrorism or extremism offenses. Educational placement is a new measure included in the Counterterrorism Law which took effect on January 1, 2016. The measure is classified as a subcategory of a criminal case – carrying its own legal codes and procedures, standardized and stipulated by the Supreme People's Court.
Previous Digest: March 2018
John Kamm Remembers is a feature that explores Kamm's human rights advocacy prior to and since Dui Hua's establishment in 1999
The Banquet (Part 1 of 2)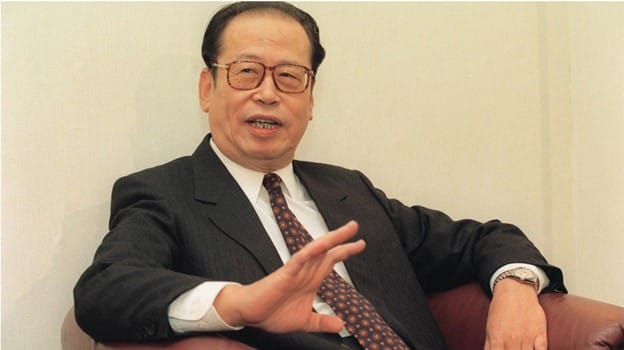 Zhou Nan, former Director of Xinhua News Agency in Hong Kong and former Vice Minister of Foreign Affairs for the People's Republic of China. Image Credit: South China Morning Post.
In the late Spring of 1990, my family and I lived in an apartment on Hong Kong's Victoria Peak that looked over a verdant country park to the South China Sea on the near horizon. When visibility was good, one could see junks with red sails and cargo vessels plying the waters off Lamma Island. The outline of Chinese islands loomed on the far horizon. China was near. With the conclusion of the Sino-British Joint Declaration in 1984, China was drawing nearer. In 1990, a mere seven years remained before China resumed sovereignty over Hong Kong.
My life in Hong Kong was good. I was a vice president of Dallas-based Occidental Chemical (Oxychem), which paid me a handsome salary and cost-of-living allowance. I enjoyed generous home leave, exclusive use of a 280SE Mercedes, a driver, two maids, school tuition for my first son, and two country club memberships. I ran the Asia Pacific region for the corporation. Oxychem had factories and sales offices in a dozen countries. I spent a lot of time on the road.
That year, I was also the president of the American Chamber of Commerce (AMCHAM) in Hong Kong, the largest American chamber outside of North America with 2,800 members. In fact, I was never meant to be president of the chamber. After the killings in Tiananmen Square in 1989, I used my position as vice-president of the chamber in charge of committees to convene a meeting of members big and small. At that meeting I pushed through a resolution condemning Beijing's actions against fierce opposition from large corporate members. The resolution was published in AMCHAM's magazine and placed as an advertisement in a number of Hong Kong newspapers.
Not surprisingly, when it came time for the Nominating Committee, which was dominated by old-timers and representatives of multinational corporations, to vote on the next president, I came in a distant second. My views on human rights and Tiananmen, in the eyes of many AMCHAM leaders, made me unsuitable to be president.
The fellow who came in first called his boss in New York with the good news. His boss told him that he had a choice: He could assume the presidency of AMCHAM and serve his one-year term, or he could continue his career with the firm. The fellow chose to continue his career, and I became president of AMCHAM by default.
I assumed the presidency on January 1, 1990. It was a tough time to be president of an organization that favored strong trade ties with China. After Tiananmen, China had become an international pariah. Calls were mounting to impose sanctions and, in the United States Congress, to strip China of its Most Favored Nation (MFN) trading status. China's trade status had to be renewed every year, ironically no later than June 4.
The first hearings on China's human rights record and MFN were scheduled to take place before three subcommittees of the Committee on Foreign Affairs of the House of Representatives on May 16, 1990 in Washington. I was invited to testify by Richard Bush, staff consultant to the Subcommittee on Asian and Pacific Affairs chaired by Congressman Steve Solarz (D-New York). I accepted the invitation.
Chaucer and Mao Tai
On May 9, a week before I was to testify, I and the leaders of the American business community in Hong Kong were invited to a banquet by Zhou Nan, Director of the New China News Agency (Xinhua) in Hong Kong. Xinhua was the seat of Chinese power in the colony. Zhou was an experienced diplomat. He had served as a vice minister in the Ministry of Foreign Affairs, in which capacity he had negotiated the joint declaration between China and the United Kingdom on Hong Kong. He spoke flawless English, and loved English literature (he could recite the prologue to Chaucer's Canterbury Tales in Middle English). He also served as an interpreter for interrogations of American POWs during the Korean War.
Zhou had a fearsome reputation as a hard-liner. He was also very anti-British, stemming from a botched attempt to recruit him by MI6 while Zhou was posted to China's Mission to the United Nations in New York.
Before heading off to the banquet, my longtime friend and fellow AMCHAM officer Jeff Muir and I had done our daily jog up Black's Link. We returned to my apartment, showered, and fortified ourselves with ice-cold cans of San Miguels. We left in my car for Zhou Nan's villa on the south side of Hong Kong Island shortly before 6 PM.
My driver had turned on the radio for the 6:00 PM news on RTHK, the government-run radio station. A few minutes into the broadcast, an interview of the mother of a Hong Kong student, Yao Yongzhan, aired. Yao, a student leader, had been detained in the aftermath of the protests in Shanghai. His mother wept gently. She had heard that her son was being mistreated in a Shanghai detention center. Her tearful plea stuck in my mind.
We arrived at the villa and were led into a room where the rest of the American guests were waiting. These were the leaders of the American business community: Michael Clancy, China Light & Power, a subsidiary of Exxon, and the largest foreign investor in Hong Kong; Lyn Edinger, managing director of Honeywell; Ed Onderko, partner of Arthur Anderson; Jeff Muir, partner of China Consultants International; and Ralph Spencer, executive director of AMCHAM.
We were ushered into the dining room where we took our seats around a large round table. I was seated at the right hand of Zhou Nan. As soon as we sat down, Mao Tai began to be served. Mao Tai is a sorghum-based spirit which is 52 percent alcohol (104 proof). It is the favored banquet drink served at meals with senior officials. It is often chased with cold beer.
Zhou Nan was known as one of China's best Mao Tai drinkers. I had learned to drink Mao Tai under the tutelage of Wang Yaoting, Chairman of the China Council for the Promotion of International Trade, when I served as the Hong Kong representative of the National Council for US-China Trade from 1975 to 1980. My boss, Ambassador Chris Phillips, wasn't much of a drinker, so I was called upon to represent him at banquets during visits to Beijing. Wang Yaoting regularly consumed a bottle of Mao Tai at dinner. Each bottle held 32 glasses made exclusively for drinking the fiery spirit.
It wasn't long before the combination of Mao Tai and cold beer loosened the tongue. I remarked to Zhou Nan that I had heard that one could learn a lot about what kind of person someone is by asking which character in the classic Dream of the Red Chamber the person admired the most, "just like you can learn a lot about someone by finding out which of the pilgrims in Chaucer's Canterbury Tales he or she likes the most."
That got Zhou Nan going: "When that Aprile with his shoures soote, The droghte of March hath perced to the roote, And bathed every veyne in swich licour, Of which vertu engendred is the flour . . ."
When he finished his performance to applause, Zhou drew himself up and began his toast. "Mr. Kamm," he intoned in perfect English, "I would like to thank you, on behalf of the Chinese government and the Chinese people, for all that you have done, and all that you are about to do, to promote friendly relations between the United States and China."
To this day, I don't know what got into my head, but I stopped Zhou Nan and asked, "So what are you going to do for me?" The room fell into a stunned silence. You could hear a pin drop. My American colleagues had had no warning. They had no idea where I was heading. Perhaps they thought I would ask that China would buy a boatload or two of caustic soda. No one knew. Neither did I.
Zhou Nan asked what I meant and I replied that many people in Hong Kong hoped that AMCHAM would convince Congress to keep China's MFN status, "but you are different, Minister Zhou. You can help me."
Zhou responded: "The Chinese government has done everything possible to improve relations with the United States." I said I begged to differ. It could do more.
Zhou put down his glass and asked me what I thought the Chinese government should do. I had arrived at that point without thinking what it was I wanted Beijing to do. Then I remembered the voice on the radio. I asked Ji Shaoxiang, head of Xinhua's foreign affairs bureau who was sitting across the table, what the name of the student leader who was being held in Shanghai. Ji replied "Yao Yongzhan."
"That's it!" I declared. "Why don't you release Yao Yongzhan?"
Zhou exploded. "You have rudely interfered in China's internal affairs, and committed an unfriendly act that has hurt the feelings of the Chinese people." he thundered.
In for a dime, in for a dollar, I figured, so I fought back. "A few minutes ago, you treated me as a friend of the Chinese government and people. Now, because I ask you to show mercy to a young man, I'm no longer a friend?"
I reminded Zhou that "The quality of mercy is not strained," and asked him if he had ever done something as a young man that he wished he had done differently later in life.
It went on like this for a few minutes. The business leaders were becoming increasingly uncomfortable, and Zhou Nan was becoming more and more upset.
Finally, I told Zhou that whether or not Yao Yongzhan were released I would still go to Congress to testify in favor of retaining China's MFN status, and asked him if he knew why. "No," he snarled. "Because I love Hong Kong. Do you love Hong Kong?"
Zhou was speechless. Here was a foreign businessman asking China's most senior official in Hong Kong whether he loved the city. After a moment's pause, Zhou said, "Alright, I'll see what I can do."
I stood up and told Zhou Nan that I wanted to use the restroom. He snapped his fingers and a young man in a white coat emerged. He led me through a maze of corridors and then, when he knew there were no recording devices in use, he turned and looked at me. He had listened to the exchange with Zhou Nan, and he had tears in his eyes. He hugged me and said, "Thank you for that."
After visiting the washroom, I returned to the banquet room. The head of China Light & Power, Michael Clancy, was apologizing to Zhou Nan. "Not all Americans are as impertinent as John Kamm," he intoned. I took my seat and reminded the Americans that I was president of AMCHAM and that they should hold their tongues. The dinner drew to a close and I returned to my apartment on Coombe Road, wondering about what I had just done.
Continue reading part 2 here…