Executive Director Kamm Embarks on College Speaking Tour
In November, Kamm gave half a dozen campus talks during an East Coast speaking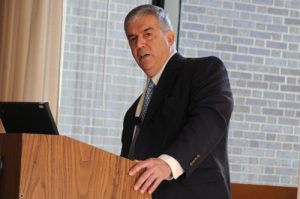 tour. Details and images from some of these events are posted on Dui Hua's Facebook page.
The tour began at Harvard University in Cambridge, Massachusetts. The talk, entitled "A Dialogue with China on Human Rights: A Personal Odyssey," took place on Monday, November 8, at Harvard Law School. Later that same afternoon, Kamm spoke at Boston University. Kamm continued his East Coast tour with speeches at Williams College (November 15), Cornell in Washington (November 18), Georgetown University (November 18; details (PDF)), and the University of Virginia (November 19; details (PDF)).
Dui Hua Attends Universal Periodic Review
Program Officer Tobias Smith traveled to Geneva, Switzerland in November to attend the ninth session of the UN Human Rights Council's Universal Periodic Review. The United States was up for review this session, and Dui Hua submitted recommendations in April in preparation for the process. Smith attended the session, met with US, Chinese, and Swiss officials regarding the US record, and provided a dispatch on the proceedings for Dui Hua's Human Rights Journal blog.
Executive Director Kamm Speaks Out on Hong Kong Prisoners
On Sunday, January 16, Dui Hua Executive Director John Kamm delivered the Stewardship Sunday Sermon at the Kowloon Union Church in Hong Kong. Kamm's sermon, "Hong Kong's Forgotten Prisoners," focused on the plight of Hong Kong prisoners on the Chinese Mainland. The sermon was later published in English and Chinese on the Hong Kong Economic Journal website.
Dui Hua in the Media
In November, Dui Hua's Joshua Rosenzweig spoke to the Associated Press about activist Zhao Lianhai's decision to drop his appeal; Zhao was later released on medical parole. In December, Rosenzweig spoke to The New York Times about the release and disappearance of Mongolian dissident Hada and the challenges facing ethnic minority prisoners in the clemency process. In January, John Kamm commented to The Washington Post on the impact that the release of a prisoner such as Xue Feng would have on Hu Jintao's state visit to the United States. ■