Events
From time to time, Dui Hua hosts or participates in talks, lectures, panel discussions, webinars, and other public events. Check back here to find out about our latest events.
Hosted by: University of New Haven
On February 22, John Kamm kicked off University of New Haven 's Brehm Boucher Speaker Series on "Making a Difference in a World of Change" with his lecture titled "US-China Relations, 1972-2023: Witness to History." Kamm engaged students from a swathe of majors and disciplines for over an hour discussing human rights, US-China relations, social justice, and how young people can make meaningful changes in today's geopolitical climate.

Feedback from the hosting organization: "It was a perfect balance of great storytelling interspersed with lots of practical, actionable advice. The students were engaged from start to finish and Kamm's journey clearly resonated with many of them who are searching for career direction and purpose."
---
Hosted by: Harvard Club of San Francisco
A Harvard alumni with deep connections to the storied university's China hands, Kamm spoke about human rights in China and how Harvard's resources continue to assist in his work in a zoom lecture. View the event video below. Event details.
---
Hosted by: University Club of San Francisco
Executive Director John Kamm addressed an enthusiastic, sold-out crowd at the University Club of San Francisco on the evening of January 12, 2023. Kamm focused on US-China relations, and the impact of domestic politics in the United States on the country's policies towards China.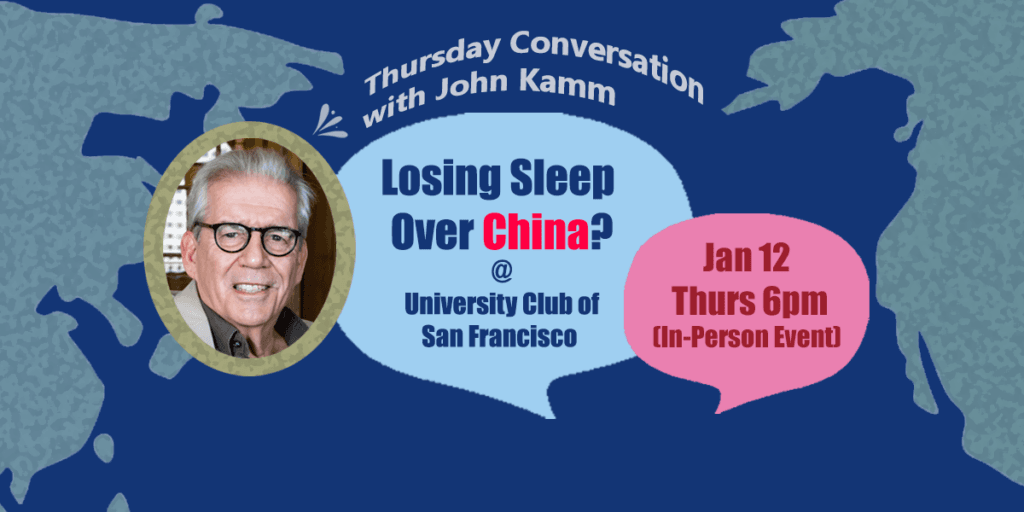 ---
---
Dui Hua in the News
At times, Executive Director John Kamm is interviewed by members of the press, and Dui Hua's research is cited by media and government publications. Read some of Dui Hua's recent appearances in the press.
The Justice Ministry widened the law's remit in February 2020 by applying it to anyone who may "insult or intimidate medical personnel, as well as those who spread 'false news' or 'rumors' about the pandemic," the nonprofit prisoner release advocacy organization Dui Hua Foundation reported last year.
---
The respected San Francisco-based rights monitoring group Dui Hua reported Thursday that Yao Wentian, 83, was released Feb. 26 and returned to his family in Hong Kong the next day.
---
In August 1989, just weeks after the Chinese army opened fire on peaceful protesters in Tiananmen Square, the UN Human Rights Commission's Subcommission on the Prevention of Discrimination and Protection of Minorities passed a resolution censoring China. It was the first and last time that China lost a vote at a UN forum over its human rights record.
---
Another database, maintained by the Dui Hua humanitarian organization, which has tracked political and religious cases since 1980, lists 7,683 active cases, many of which involve members of the outlawed Falun Gong religious group. In recent years, the Chinese government has better concealed details about political prisoners. But it is clear that the government's highly sophisticated surveillance system — including facial recognition and even technology that can identify a person by their gait — is zeroing in on dissent and protest.
---
"We need to work harder to find areas of common ground and common interest, and there is good reason why the two countries can focus on some things in common. My favorite example is juvenile justice. Americans don't often think about this in these terms. But in fact, rights of the child, rights of children are human rights." – John Kamm
---
More than 200 U.S. citizens at various stages of prosecution remain wrongfully detained in China but the exact number is unclear, according to John Kamm, who chairs the Dui Hua Foundation, a San Francisco-based nonprofit seeking clemency and better treatment for at-risk detainees, American or otherwise.
---
John Kamm, who has decades of experience negotiating with Chinese officials in his role as founder of the Dui Hua prisoner advocacy organization, said "it puts pressure on China to do something as a goodwill gesture in response to what they've done."
---
The Dui Hua Foundation, which has kept tabs on Swidan, says he has been deprived of sleep and food and has lost more than 100 pounds while incarcerated. The organization says he has been held in solitary confinement and only allowed one phone call to his mother, Katherine Swidan.
---
"The area where China can make concessions to improve the relationship – which is what they say they want to do – is in the area prisoner releases," Kamm said.
---
---
Learn